YES! I did it! I've posted two articles on Planet Whiz Kid within a month! Sure, they might not be within the same month, but it's progress! Even though I'm very busy, I wanted to make time to write a post about the hottest TV show of 2020: The Mandalorian!
I've likely mentioned my love for The Mandalorian before. But I haven't done an entire post on it . . . until now! I've been watching each episode as it releases every Friday — and then taking the rest of the week to mull it over in my mind. I like to call it the STREAMING Cycle, since the show streams exclusively on Disney+. And because STREAMING stands for:
Start predicting for the upcoming episode
Then get my Mandalorian merch on
Remember what happened in last week's episode
Encapsulate the Star Wars Spirit
And start the show!
Mandalorian watching process is over
Investigate the internet for others' thoughts
Notarize what my intentional thoughts are
Get my final thoughts down
The extended abbreviation is SPFTUPETGMMMORWHILWEETSWSASTSMWPIOITIFOTNWMITAGMFTD, but I didn't think it would catch on as well. I think I made the right decision going with STREAMING.
Today I'll be ranking all the episodes of The Mandalorian Season One. After Season Two is over (the season finale premieres on December 18th), I'll rank those episodes, as well. I'll give some information on each episode, then give my thoughts. And after ranking the episodes, I'll give my theories for the rest of the season. But before we start that, let's check in with Paul the Box Office Guy.
Whiz Kid: Hi Paul! Thanks for meeting with me via Zoom.
Paul the Box Office Guy: No problem.
Whiz Kid: Unfortunately, I can't see you. Can you turn on your video?
Paul: Video? Oh, that's why I can see you.
Whiz Kid: Uh . . . yes. Zoom is equipped with both a camera and a microphone so people can see and hear each other.
Paul: What's Zoom?
Whiz Kid: It's what we're on right now.
Paul: Oh. This is starting to make sense now.
Whiz Kid: Let's get right to the point. How's the box office doing during COVID-19?
Paul: I've been storing them in my buddy's basement. He has a lotta fishy stuff down there anyway.
Whiz Kid: What?
Paul: Well, you wanted to know how the boxes are doin'. I just told ya: I put them in my buddy's basement.
Whiz Kid: Boxes as in packages? Packages of what?
Paul: Gum, mostly. I'm a big gum guy, but strawberry's my favorite flavor.
Whiz Kid: Alright, I think we're going to have to cut it short. Merry Christmas, Paul, and GOODBYE!
Hopefully Paul and I will have a better conversation when time allows. But, anyway, there's not much happening right now with the box office (obviously), but The Croods: A New Age did release in theaters and is at the top of the box office currently by a landslide. A few Christmas films that are being played at movie theaters and are doing somewhat well financially are Elf, The Santa Clause, and National Lampoon's Christmas Vacation. Also, some breaking news here is that Warner Brothers announced today that all of their 2021 films will release in theaters and on HBO Max simultaneously. A big hit to the movie industry! Now I just have to convince my parents to buy HBO Max. Some of their big 2021 films include Godzilla vs. Kong, Dune, The Matrix 4, Space Jam: A New Legacy, Tom & Jerry, Mortal Kombat, and The Suicide Squad (via Culture Crave on Twitter). Maybe helpful for America, but not for Hollywood.
Well, with that aside, let's move onto ranking the episodes of season one of The Mandalorian. If you haven't watched season one yet, there will be spoilers. So go watch it, then come back for this. Lights, computer, ACTION!
8. Chapter 4: Sanctuary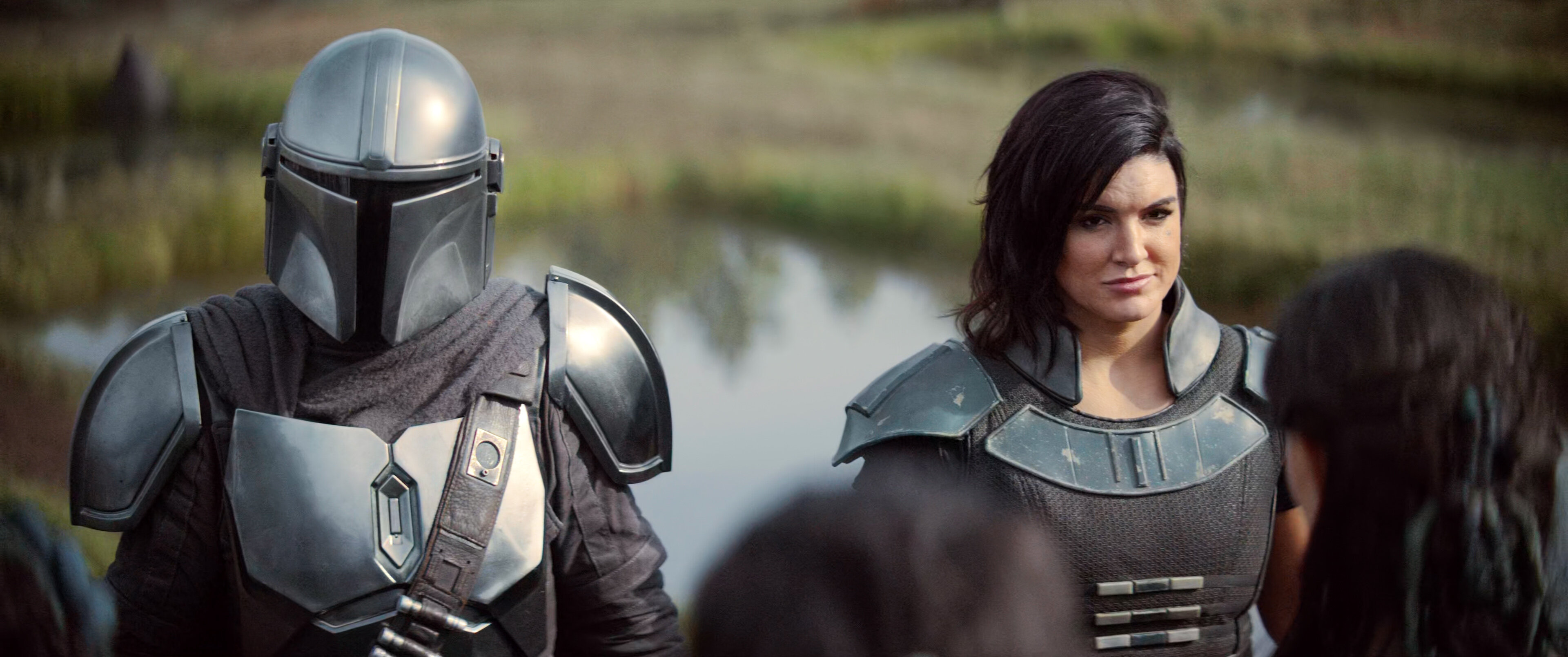 Release Date: November 29, 2019
Runtime: 41 minutes
Director: Bryce Dallas Howard
Writer: Jon Favreau
Main Cast: Pedro Pascal, Gina Carano, Julia Jones
Rotten Tomatoes Score: 92%
IMDb Rating: 7.8/10
Plot: The Mandalorian seemingly finds sanctuary on a forest planet where he teams up with an ex-Rebellion shock trooper to protect a village from raiders.
My Thoughts: When I think of my least favorite Mandalorian episode, I think of this. Not because it's bad by any means, but because it doesn't increase the dramatic tension while also giving us hints to where the season is going after this. Basically, Mando goes to a planet, meets Cara Dune, fights off some raiders, and leaves with The Child (A.K.A. Baby Yoda). However, it does do a good job of slowing down the pace after the action-packed previous episode, but it's arguably too slow. The pace seems too wacky. It's very slow up until the third act, when Mando, Cara, and the village fight off plunderers that are using an AT-ST. I really enjoyed the more retro yet visually stunning shots that are included in the fight sequence. It acts as a nod to the original trilogy, and it does an amazing job of doing that. Another positive about this episode is that Cara Dune is introduced, and she becomes a larger character later on in the season. AND, we also get some information on why Mando never takes his helmet off in front of anyone else: because if he does, he has to have it off for life. It's a very cult-ish rule that the Mandalorians follow (this is expanded in S2E3). Besides the main problem about the village being attacked, there's another problem on the side: Mando meets this widowed villager that he has the hots for, but he can't take his helmet off to lay one on her. I didn't care for that plotpoint, but I can see why critics enjoyed it because it shows a more vulnerable side of Mando. Overall, an episode that has quite a few pacing issues and some unnecessary themes, but has a killer third act. 7/10. B-
7. Chapter 2: The Child
Release Date: November 15, 2019
Runtime: 33 minutes
Director: Rick Famuyiwa
Writer: Jon Favreau
Main Cast: Pedro Pascal, Nick Nolte
RT Score: 92%
IMDb Rating: 8.7/10
Plot: Having now located his bounty, The Mandalorian faces many troubles while attempting to escape Arvala-7, but his Ugnaught friend may be of help.
My Thoughts: This is an episode that, like Chapter 4: Sanctuary, has some issues delivering satisfactory moments. The previous episode left off on a huge cliffhanger with Baby Yoda being revealed as the bounty, and I'm not entirely sure if this episode delivered what needed to be delivered. We instantly wanted to know what The Client and Dr. Pershing wanted Baby Yoda for, and this episode completely ignored that plotline. This episode is almost irrelevant — at least compared to the rest of the season. It displays what the show struggles with as a whole: it takes too long to play a certain card, or rather to progress the story forward. We had to wait three episodes (4-6) until we finally got an episode dedicated to moving the entire plot forward. With the negative out of the way, there is still a lot of good about this episode. First of all, who doesn't want to see Baby Yoda eat a frog? (I guess this maybe ties into S2E2, where he controversially eats a few of Frog Lady's eggs.) The reveal that Baby Yoda is Force-sensitive is a massive highlight, as well as the entire scene with the Mudhorn in general. Some might complain that this is too short of an episode, but I think that its runtime helps its pace. Although it can be slow at times and it barely has any dialogue at all, Chapter 2: The Child has some great scenes, including Mando's fight with the Jawas. The pacing isn't as raw as Sanctuary, but it could still use some tightening up, especially since there isn't a jaw-dropping showdown at the end. So, a good episode that might be too inconsequential, but still has some memorable scenes and fun Star Wars action. 7.5/10. B
6. Chapter 1: The Mandalorian
Release Date: November 12, 2019
Runtime: 39 minutes
Director: Dave Filoni
Writer: Jon Favreau
Main Cast: Pedro Pascal, Carl Weathers, Werner Herzog, Omid Abtahi, Nick Nolte, Taika Waititi, Emily Swallow, Horatio Sanz
RT Score: 90%
IMDb Rating: 8.7/10
Plot: The Mandalorian gets a tip on an ex-Empire-related client offering a heavy amount of Beskar steel in exchange for a bounty of fifty years located on Arvala-7.
My Thoughts: Chapter 1: The Mandalorian instantly drew in viewers, most of which who loved the first episode of this great series. I wouldn't say I "love" it, but I do enjoy it. I recently rewatched this episode, and there are some unnecessary aspects that could be completely left out (e.g., Kuiil training Mando to ride a Blurrg). Also, The Mandalorian's true personality isn't revealed until Chapter 3: The Sin, but Chapter 2: The Child cleverly hinted at Mando's soft side. This episode doesn't do ANY of that until the absolute final scene where he shoots IG-11 to keep Baby Yoda safe. Before that, he's plainly a strict bounty hunter doing his job with no compassion in the world for his targets. Many praise the opening sequence where Mando captures a Mythrol. Apparently, it shows how Mando ordinarily deals with his bounties. I understand that, but I think we need to show Mando's more vulnerable side earlier on. Sure, Baby Yoda is more adorable than the Mythrol, but the Mythrol wanted to be with his family for Life Day. How is it any different? I guess it shows how people are getting matched up lately — looks over motivation. Anyway, like Chapter 4: Sanctuary, once the third act is unlocked, the best parts of this episode are unlocked. The fight sequence where Mando and IG-11 are pitted against dozens of bounty hunters is perfectly choreographed, and it has a very Star Wars feel to it. And finally, when Mando discovers Baby Yoda may be one of the best scenes in all of Star Wars history. Another great part of this episode is that it sets up different characters and begins the overall season arch both for certain characters (excluding Mando) and for the entire storyline in a PERFECT manner that PERFECTLY complements the season finale. A solid episode that, surprisingly, I would enjoy more as a critic (if I were one) rather than an audience member. 7.5/10. B
5. Chapter 5: The Gunslinger
Release Date: December 6, 2019
Runtime: 35 minutes
Director: Dave Filoni
Writer: Dave Filoni
Main Cast: Pedro Pascal, Amy Sedaris, Jake Cannavale, Ming-Na Wen
RT Score: 74%
IMDb Rating: 7.6/10
Plot: The Mandalorian travels to Tatooine to have the Razor Crest repaired, and helps a rookie bounty hunter capture a target in the meantime.
My Thoughts: This is the lowest rated episode on both Rotten Tomatoes and IMDb. I guess I just don't understand that. I'll defend this episode for as long as I live! It certainly is more frustrating as a critic rather than a viewer. Like chapters six, seven, and eleven, he goes to a planet, trusts someone who should NOT be trusted, and winds up getting betrayed. This is a theme that needs to be resolved, because we can't have a twist that's supposed to be unpredictable, but the audience knows it's going to happen nonetheless. Anyway, how this entire episode plays out is very predictable, and there's really no heart or soul poured into the script. Plus, the Toro Calican character (portrayed by Jake Cannavale) is too much of a Han Solo wannabe. He should've been written in a way that crafted him into a more unique character that, although maybe lasting only one episode, is interesting enough for the audience to be attached to him. Another critique is that Filoni (the writer for this episode) sets up Calican to be a rookie bounty hunter who's desperate to be involved in the Bounty Hunters' Guild. But he wasn't written so he'd do whatever it takes to get into the Guild. It doesn't make sense that, 3/4 through the episode, after learning that Mando is a major target for the Guild, he suddenly takes this dark turn and kills a bounty that he could've simply run off with. He's smart enough to know that he can't defeat a MANDALORIAN! On the other hand, the reason I ranked this episode so high is simply for my love of it as a Mandalorian fan. It captures the essence of Star Wars so simply yet elegantly in a fashion that almost acts as a breath of fresh air. Going back to Tatooine might not make the most sense, but it's sure good to be back on a planet we haven't been to since 2005. And although it might be predictable, the story is a fun one and gives us some adorable Baby Yoda moments. Chapter 5: The Gunslinger may not be the best installment of The Mandalorian, but it delivers just the perfect dose of Star Wars. 7.5/10. B
4. Chapter 6: The Prisoner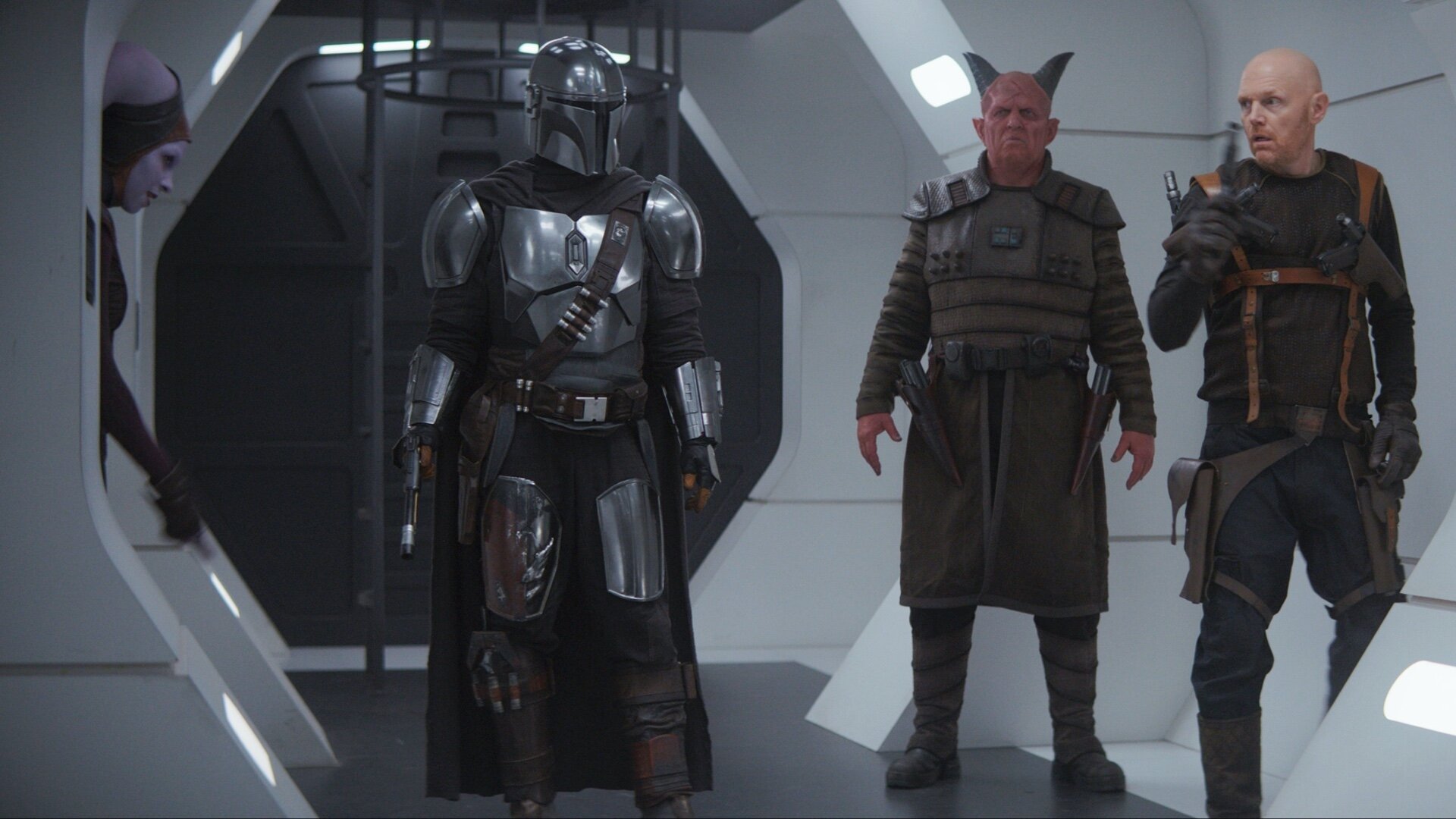 Release Date: December 13, 2019
Runtime: 43 minutes
Director: Rick Famuyiwa
Writers: Christopher Yost (Story); Rick Famuyiwa & Christopher Yost (Teleplay)
Main Cast: Pedro Pascal, Mark Boone Junior, Bill Burr, Natalia Tena, Clancy Brown, Richard Ayoade, Carl Weathers, Ismael Cruz Cordova
RT Score: 83%
IMDb Rating: 8.4/10
Plot: The Mandalorian teams up with a shady mercenary group whose tactics differ from him to release a criminal from a galactic prison.
My Thoughts: This is easily the most watchable Mandalorian episode, as well as possibly the most fun one. The writing and direction of this episode are STELLAR. It stays true to the Star Wars formula but induces almost a bit of a Guardians of the Galaxy theme, too. It was a great idea to directly compare The Mandalorian to other bounty hunters, and you can see how he's almost become softer since he's run off with Baby Yoda. However, it suffers from what I mentioned earlier: he trusts someone or some people, in this case the mercenary crew, and he gets betrayed. This time it isn't as bad, though, because his comeback is the best scene of this episode. He isolates each crew member and defeats them. But what makes it so enjoyable, and a little scary, is that it's directed in a way that you can only see a little bit of what happens. It's difficult to explain through text, but I can assure you that it's brilliant. Director and co-writer Rick Famuyiwa's vision was spot-on. The characters that he and Christopher Yost wrote into the script aren't at all like the Toro Calican character from Chapter 5: The Gunslinger. They each have a distinct personality trait, and many of them are humorous, as well. One of the only negatives about the episode is that it doesn't necessarily carry on the overall season arc, somewhat like The Gunslinger, and it barely has Baby Yoda in it at all, except for near the end where the mercenary crew's droid Q9-0 discovers him. I'm also surprised that the characters Mayfeld, Xi'an, and Burg haven't been in any other episodes since this one, especially since their fate was left on a bit of a cliffhanger. Extra points for casting Bill Burr. Chapter 6: The Prisoner is a fantastic episode with great production design, great characters, and excellent pace. 8.5/10. A-
3. Chapter 3: The Sin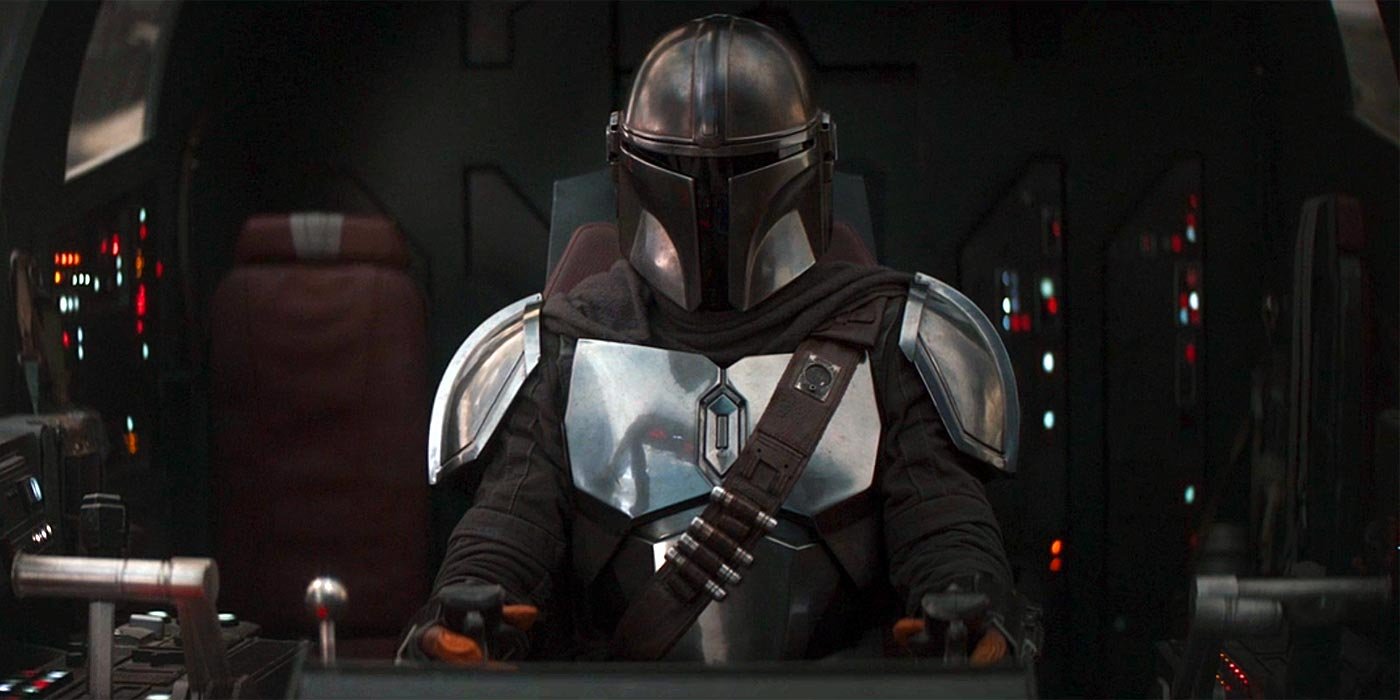 Release Date: November 22, 2019
Runtime: 37 minutes
Director: Deborah Chow
Writer: Jon Favreau
Main Cast: Pedro Pascal, Carl Weathers, Werner Herzog, Omid Abtahi, Emily Swallow, Jon Favreau
RT Score: 93%
IMDb Rating: 9.1/10
Plot: The Mandalorian returns to Nevarro with the quarry, but soon finds himself questioning his own morality, to the dismay of a friend.
My Thoughts: This episode has everything I'd want in a Mandalorian episode stuffed into 37 minutes. The pacing is better than the previous two episodes combined, the action and tension are on extremely high levels, The Mandalorian's true personality is revealed, we get some mysteries that are still unresolved to this day, and so much more is in this episode. There might be a few nitpicky things that I'd mention in a much more lengthened review, but they're very minimal compared to the bigger picture. And the bigger picture is that Chapter 3: The Sin may supply The Mandalorian with more armor, but it strips that down to get to his core beliefs and the show's main story in general. 9.5/10. A
2. Chapter 7: The Reckoning
Release Date: December 18, 2019
Runtime: 41 minutes
Director: Deborah Chow
Writer: Jon Favreau
Main Cast: Pedro Pascal, Carl Weathers, Gina Carano, Nick Nolte, Taika Waititi, Werner Herzog, Giancarlo Esposito
RT Score: 100%
IMDb Rating: 9.1/10
Plot: The Mandalorian regroups with his old allies to confront a former friend-turned-enemy who has offered a dangerous plan.
My Thoughts: I honestly considered putting this at number one, but the one thing that held me back was that I don't think it was a wise decision to write Greef Karga in a way that makes him betray Mando — it's too predictable. That's it. That's my ONLY critique of this entire episode. I wish Deborah Chow would direct more episodes of The Mandalorian, because she has a great sense of pacing, what fits right, and what doesn't quite make it into the puzzle. This episode continues the arc that the season started in episode one by reuniting Mando with his past allies, Cara Dune and Kuiil (plus IG-11, if you count him), to return back to Nevarro with Baby Yoda. What ensues is both a mix of classic Star Wars and twists you wouldn't expect (besides Greef's betrayal). The main shock of this episode is when The Client is shot down by Moff Gideon's forces, and Gideon himself is revealed to be the main villain, or rather pulling the strings behind the curtain the entire time. When that happens, the tension rises to never-before-seen levels, and everything changes. There's more at risk rather than just Baby Yoda's safety. It now affects possibly the entire galaxy — at least that's what Gideon is trying to make you think in his monologue. The urgency, but fun urgency, is quite real in Chapter 7: The Reckoning, but that doesn't stop it from getting in on the Star Wars fun. 10/10. A+
1. Chapter 8: Redemption
Release Date: December 27, 2019
Runtime: 49 minutes
Director: Taika Waititi
Writer: Jon Favreau
Main Cast: Pedro Pascal, Taika Waititi, Giancarlo Esposito, Gina Carano, Carl Weathers, Emily Swallow
RT Score: 100%
IMDb Rating: 9.3/10
Plot: The Mandalorian and his remaining allies come face-to-face with a new threat — one that already knows much about them.
My Thoughts: Coming in at number one is Chapter 8: Redemption for so many reasons! This episode masterfully closes out the season one arc while still opening up room to continue certain arcs set up in the season, and to create new ones simultaneously. I don't have any critiques for this episode — besides that Giancarlo Esposito might've given TOO good of a performance! Chapter 8: Redemption is a joyful ride with Baby Yoda that displays what's greatest about The Mandalorian — characters, action, and twists!
So, that is my ranking of all the episodes of The Mandalorian Season One. Comment down below on your ranking of these episodes, and feel free to throw in some Season Two episodes, as well, if you've seen any of those. Quickly, before I go, I want to give my theories for what's next in the last three episodes of season two. Spoilers ahead for the first five episodes of the second season.
I think that in Chapter 14 (the episode dropping tomorrow morning), Mando and Grogu (A.K.A. Baby Yoda) will be on their way to Tython. Maybe they'll even make it to Tython and be able to put Grogu on the rock so he can choose his destiny, but Moff Gideon and his Dark Troopers will attack them. Remember, there was a tracker beam implemented in the Razor Crest. There'll be a fight between Gideon, the Dark Troopers, and Mando. Gideon's Darksaber will go against Mando's newly acquired Beskar staff. However, Mando will get badly injured and lose Grogu. Gideon will leave, but not before ordering his troopers to finish off Mando. They'll start shooting at him until Luke Skywalker appears and slashes them to pieces with his green lightsaber! Grogu did reach out to the Force! And that's the end of Chapter 14. Maybe the episode will be titled The Attack, or The Temple. Either way, I'm not 100% sure that Luke will appear or that they'll even get to the temple, but I am fairly certain that we'll see Moff Gideon go head to head with Din Djarin (The Mandalorian). I'll give my theories for the rest of the season in a separate post.
Well, that's all for today, but thanks for reading, and be sure to come back soon for (hopefully) another post! Until then, enjoy Chapter 14 of The Mandalorian.
Whiz Kid out
P.S. Check out some of the concept art from season one of The Mandalorian!