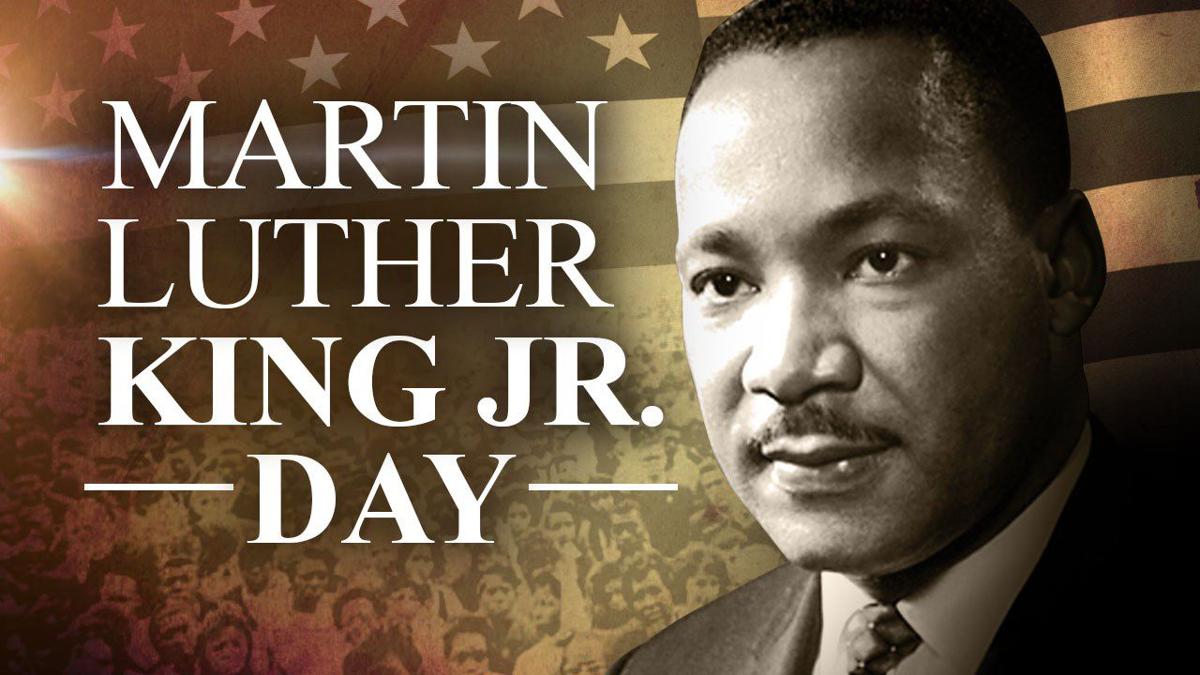 Guess what? It's 2021! I haven't written a post since December 3, 2020, so Happy New Year to everyone out there reading this! Although 2020 has been, well . . . not so fun, we can look forward to what the rest of 2021 will bring. I suspect that, at some point this year, we'll be able to get back into the good-old fashioned movie theaters. And I'm not talking about theaters from the '50s and '60s when I say that; I'm talking about movie theaters with actual people in them! There's a ton of highly anticipated films slated for this year, so keep your fingers crossed!
But, as you may have guessed by the title, I'm not here today to talk about movies or TV — I'll save that for next time. Today, I'm here to talk about one of the most courageous and respected men in the history of our nation: Reverend Dr. Martin Luther King Jr.! I think Martin Luther King Jr. Day hits a little differently this year due to the civil unrest that occurred in 2020 and is still happening in 2021. We all felt a gut punch when we lost civil rights advocate Congressman John Lewis in July, who was the chairman of the Student Nonviolent Coordinating Committee for three years in the 1960s and served as the representative of Georgia's 5th congressional district in the House of Representatives. Not only do we remember John Lewis, but also George Floyd, as well as the owners who lost their small businesses due to the riots last summer. I live not too far from Minneapolis, which was where George Floyd was killed and many peaceful protests, as well as riots, took place. If Martin Luther King Jr. was still alive, would we have seen the riots? Or simply peaceful protests? He was ALWAYS an advocate for peaceful protest. Violence was never tolerated in his opinion.
I did a post on Dr. King last year detailing the journey of his life, so I'm going to do something a little different this year. I'm going to list his top four greatest accomplishments. But first, let me give you just a brief summary of who he is — although you probably don't need it!
Michael King Jr., later known as Martin Luther King Jr., was born in January 1929 and is known as the most influential leader of the Civil Rights Movement that came to fruition when President Lyndon B. Johnson signed the Civil Rights Act of 1964 (although, Johnson was secretly a racist and wiretapped Dr. King's phone). Dr. King worked with all walks of life (including other famed civil rights advocates like Rosa Parks, Malcolm X, and sometimes his own wife, Coretta Scott King) to ensure equal rights for all people. Although he's primarily known for his I Have a Dream speech during the March on Washington, he gave many fantastic speeches at several successful protests and marches, as well at the various churches that he preached at, whether that be the Dexter Avenue King Memorial Baptist Church in Alabama, or the Ebenezer Baptist Church in Georgia. During his lifetime, Dr. King was arrested twenty-nine times! Many of those times, he was arrested simply because of the color of his skin and his wish to end segregation. Although he did break the law at times, it was an unconstitutional law, meaning that it didn't follow what was stated in the Constitution, which I like to refer to as "America's Bible". After years of accomplishments, Dr. Martin Luther King Jr. was assassinated in April 1968 by James Earl Ray. However, conspiracy theories have been created about the true nature of Dr. King's assassination, including the possibility that Ray may have been set up. Despite that, Dr. King went down as a man who not only strongly believed in peaceful protest, but who believed in America.
Alright, so there's your basic summary of Martin Luther King Jr.'s life in one paragraph, but if you want to learn more, you can purchase Who Was Martin Luther King Jr.?, part of the Who Was? series. Not a sponsor.
And just so you know, Bonnie Bader, Martin Luther King Jr. doesn't have a comma before "Jr."! I'm sorry, but I HAD to say it!
Alright, moving onto Reverend Dr. Martin Luther King Jr.'s FOUR greatest accomplishments! Lights, computer screen, keyboard, action!
4. Winning the Nobel Peace Prize (1964)
Dr. Martin Luther King Jr. was awarded the Nobel Peace Prize in 1964 "for his non-violent struggle for civil rights for the Afro-American population". At only thirty-five-years-old, King became the youngest person at the time to ever win a Nobel Peace Prize. Wow! That alone deserves to be written in the history books. Receiving the award isn't as much of an accomplishment as the thought put into receiving it is. Also, it shows how much the United States had improved in a short amount of time — for example, if Dr. King had been nominated ten years, or maybe even five years previous to 1964, he likely wouldn't have won it because of his unpopularity. But I think that by 1964, people truly realized how much of an upstanding and worthy individual he was for this award.
3. The Montgomery Bus Boycott (1955-1956)
This one had a possibility of squeezing into the no. 2 lane, but I held it back just by a little bit, simply due to the number of people involved. But don't get me wrong, the Montgomery Bus Boycott was an amazing accomplishment! It all started when Rosa Parks, a 42-year-old Black woman refused to give up her seat in the "colored" section of the bus, where Black people had to sit unless a White person wanted the seat. In Montgomery, Alabama, at around 6:00 P.M. on Thursday, December 1, 1955, the driver of the bus, James F. Blake, demanded that Parks give up her seat. She refused! And rightfully so. Parks was later arrested, but she worked with Martin Luther King Jr. to start the Montgomery Bus Boycott the Monday after not giving up her seat. The Montgomery Bus Boycott was the protest against bus segregation — King and Parks rallied all Black people to boycott the use of city buses as transportation. Instead, they chose to walk to work or take a taxi — they could transport however they want, but they were urged not to take the bus. That way, the city of Montgomery would lose money, and they'd eventually have to give in to King's demands to stop segregation on buses. Almost exactly one year after Parks refusing to give up her seat on the bus, the Supreme Court upheld the district court's decision: bus segregation was unconstitutional. Not only was this a turning point in Dr. King's peaceful war against segregation, but it was a victory for everyone who helped with the boycott, including Rosa Parks. The number of people who were involved with the boycott also showed other segregated states that King wasn't messing around.
2. The March on Washington (1963)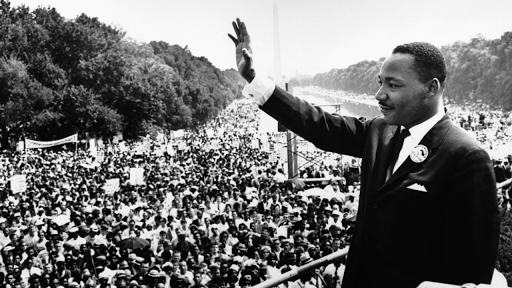 This one is kind of obvious. I think everybody knows about the March on Washington, organized by none other than Dr. Martin Luther King Jr. It's also where King gave his famous speech "I Have a Dream" at the steps of the Lincoln Memorial that has gone down in history as one of the most passionate speeches of all time, mostly because of Dr. King's Oscar-worthy recital of it. In fact, he actually improvised. He started reading from his previously prepared script, but then he started improvising a speech that I believe he had preached before, but it wasn't very well-known at the time. It's estimated that 250,000 people attended the March on Washington, partially to support President Kennedy's push for civil liberties. Even if only seven people had shown up, it was the message that Dr. King preached that has made the March on Washington such a special event in the history of the United States.
Before I give my number one pick, here's some honorable mentions for Dr. Martin Luther King Jr.'s greatest accomplishments:
Receiving his Ph.D. (1955)
Becoming president of the SCLC (1957)
Visiting India to take inspiration from Mohandas K. Gandhi (1959)
Developing a friendship with President John F. Kennedy (1960)
The Birmingham campaign (1963)
Getting the Civil Rights Act and the Voting Rights Act signed (1964 & 1965)
The Selma marches (1965)
The Chicago Freedom Movement (1965-1966)
Poor People's Campaign (1968)
Standing by his Christian faith even during tough times
Keeping optimism
Establishing a legacy that lives on to this day (1968-Present)
Alright, it's time for the big boy! Number one! Drum roll, please . . . . . . . . .
1. Believing in the power of peaceful protest
There really doesn't need to be a lot said about this . . . or the opposite. There are endless things to be said about how Dr. Martin Luther King Jr. preached, during his entire civil rights career, peaceful protest. Not only did he believe in peaceful protest, he changed America through peaceful protest. Although he was pressured sometimes to give into violence like people such as Malcolm X, Dr. King always stuck with what he knew was right — the two Ps: peaceful protest. He told his supporters not to fight back if someone hurt you: ALWAYS stay peaceful. And his niece Alveda King has continued to carry on that same idea. No matter what happened to him, Martin Luther King Jr. made the right choice by choosing peaceful protest. Although the concept of our world being COMPLETELY anti-racist may seem far away, it seemed even further away during Martin's lifetime. However, due to the powerful words of Dr. Martin Luther King Jr. and the strength of the peaceful protest, we live in a more civilized, enriched America that welcomes anyone and everyone, regardless of race.
Well, that's all for this Martin Luther King Jr. post, but thanks for reading, and come back again soon for another post, possibly ranking the episodes of The Mandalorian Season 2. We'll see. And Happy MLK Jr. Day!
Darkness cannot drive out darkness; only light can do that. Hate cannot drive out hate; only love can do that. – Dr. Martin Luther King Jr.