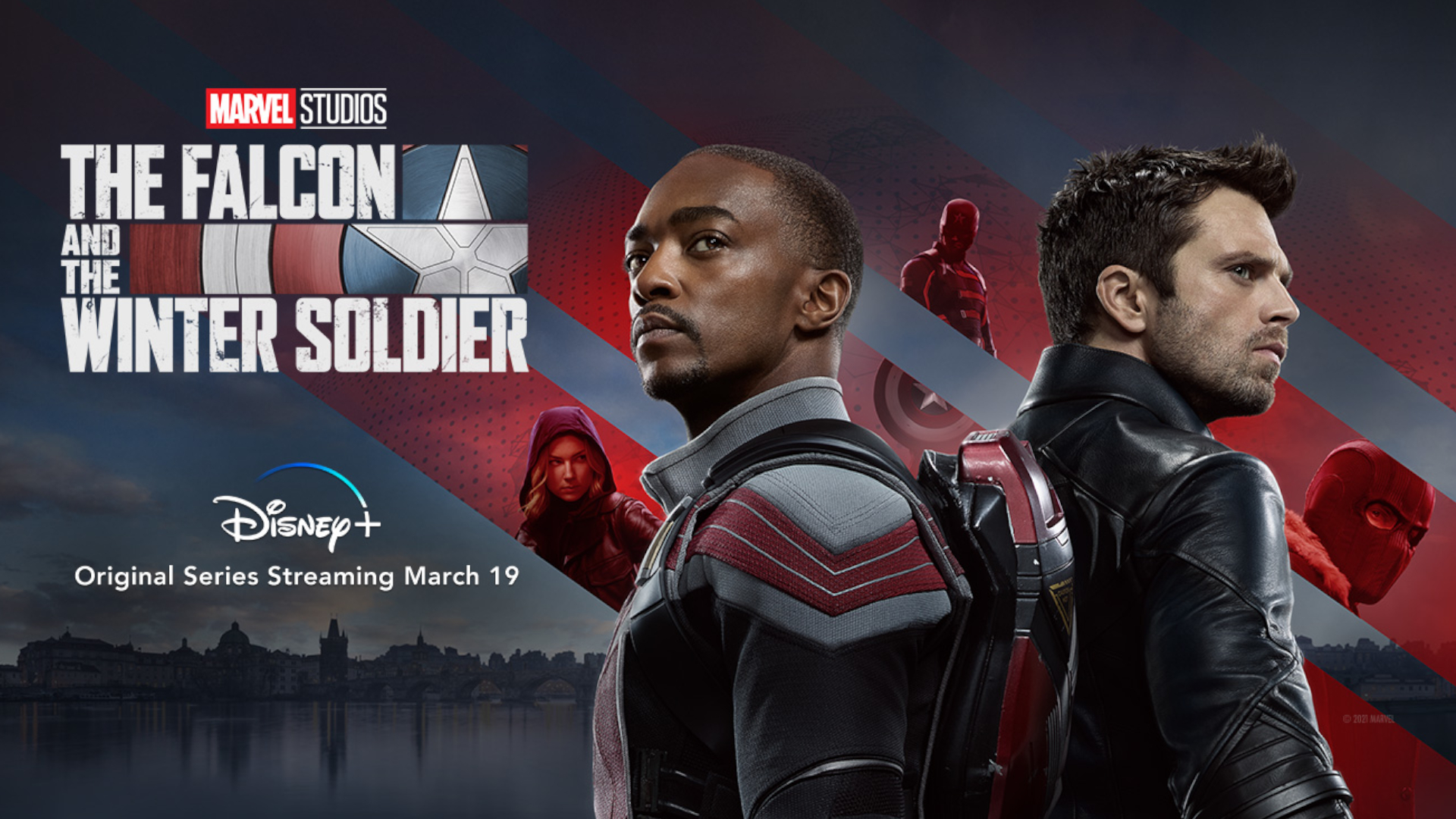 Well, after a brief hiatus, I'm back! And although only a few of my predictions for the WandaVision finale that I mentioned in the last post came true, I'm doing great! Why? Because The Falcon and the Winter Soldier is dropping its finale on Friday. So, it's time for episode two of Theories Before the Finale! The last post I wrote was about predictions for the WandaVision finale, so I thought it would only be fair if I did the same for The Falcon and the Winter Soldier. Just so you know, this is a spoiler post, so if you haven't seen the first five episodes of The Falcon and the Winter Soldier (or, TFATWS for short), go watch them right now! Then come back here and read the rest of this post.
Okay. I hope you've watched all the episodes by now. Because we're descending into the Dungeon of Spoilers!
But we're not going there yet. So, you're safe to continue reading for a while. Because, before we get started with my predictions for the Falcon and the Winter Soldier season finale, I want to mention that I've also been busy watching my game shows! I don't really have many sitcoms to watch. (Except Modern Family, The Office, Parks and Recreation, Kenan, Young Rock, and Mr. Mayor . . . so never mind.) So, sometimes I've been watching game shows in my spare time. Here are all the game shows I watch or have watched:
Supermarket Sweep, with Leslie Jones (ABC)
Card Sharks, with Joel McHale (ABC)
The Price is Right, with Drew Carey & George Grey (CBS)
Let's Make a Deal, with Wayne Brady & Jonathan Mangum (CBS)
Wheel of Fortune, with Pat Sajak & Vanna White (CBS)
Ellen's Game of Games, with Ellen DeGeneres & tWitch (NBC)
The Wall, with Chris Hardwick (NBC)
Weakest Link, with Jane Lynch (NBC)
To Tell the Truth, with Anthony Anderson (ABC)
The Masked Singer, with Nick Cannon, Niecy Nash, Ken Jeong, Jenny McCarthy Wahlberg, Nicole Scherzinger, and Robin Thicke (FOX)
I Can See Your Voice, with Ken Jeong, Cheryl Hines, and Adrienne Houghton (FOX)
The Masked Dancer, with Craig Robinson, Paula Abdul, Brian Austin Greene, Ken Jeong, and Ashley Tisdale (FOX)
Name That Tune, with Jane Krakowski & Randy Jackson (FOX)
Game of Talents, with Wayne Brady (FOX)
Celebrity Wheel of Fortune, with Pat Sajak & Vanna White (ABC)
The Chase, with Sara Haines, James Holzhauer, Ken Jennings, and Brad Rutter (ABC)
The Hustler, with Craig Robinson (ABC)
Of course, many of those game shows finished their run for the season a few months ago, so now I'm just left with the daily game shows, as well as The Masked Singer and Game of Talents. However, it's difficult for me to watch The Masked Singer because it's just like a giant plate of nachos. The CHEESE! I can't stand the CHEESE! Or, in other words, the campiness. The judges lay it on THICK! Literally every time a contestant finishes singing a song, Nicole Scherzinger says, "You are the one to beat! That was incredible!" If I had a palm on the forehead emoji, I would use it right now. But I'm not judging her! If I'm judging anyone, it's the directors! The panelists are simply victims!
To be honest, I just copied a lot of my opening from a post I was writing a few weeks ago about Godzilla vs Kong. Why? Because I like to take the easy route. 😉 But I wrote some new stuff above, too, so I can defend myself. I still intend to finish my post about G v K. I was going to rank all four MonsterVerse films, and I don't want to put all the notes I took to waste!
We're just about ready to get into some TFATWS talk, but we obviously need to check in with Brad the Box Office Guy, filling in for Paul the Box Office Guy (thankfully). Brad's at an AMC theater right now.
Whiz Kid: Hey Brad. How are the box office results looking?

Brad the Box Office Guy: Well, Whizzy Dude, it looks like Warner Bros' Godzilla vs Kong is DOMINATING the box office. On opening day, it had gained a solid $9.6 million. The day after, it gained $6.7 million. That's pretty good for a regular opening, let alone with the COVID-19 pandemic and the film streaming on HBO Max.

Whiz Kid: Wow. So, let's say that there's a group of friends that want to watch a movie. But they HATE plot holes and movie storylines that don't make any sense, so, obviously, they don't want to watch Godzilla vs Kong. Is there an alternative option?

Brad: There sure is, Little Whiz! Whoa, that rhymes. Groovy. Bob Odenkirk's new film Nobody is right behind Godzilla vs Kong, with Unholy, Raya and the Last Dragon, Tom & Jerry, Voyagers, and The Girl Who Believes in Miracles in the top seven. Although it's not in the top seven, I like the movie Courier. It's with that Brit who looks like a cucumber ghost. What's his name . . . ?

Whiz Kid: Benedict Cumberbatch?

Brad: Whoa! Yeah, that's right, Whiz Whoz. You're a smart little Whizard.

Whiz Kid: Uh . . . thank you . . . ? Anyway, before we go, what's it like working at a movie theater?

Brad: It's amazing, Whiz Boy. Absolutely incredible. It's fun that I get to sometimes play pranks on movie goers.

Whiz Kid: Pranks?

Brad: Yeah, Whizzy Whoaz. Sometimes I'll hack into the movie theater screen and tell people that they've been kidnapped.

Whiz: Say WHAT?!

Brad: Yeah. And during a horror movie, I'll sneak in and suddenly grab people around the neck during a scary scene. There's been some lawsuits.

Whiz: Why haven't you been fired yet?

Brad: The movie theater loves the attention. There's a ton of Trip Advisor reviews that tell people to not go there. But, due to human interest stimulated by the cerebral, people obviously want to come and see what's so bad about the movie theater. So, I'm really keeping the film industry alive!

Whiz: Oh-kay, I think it's best just to leave it here. We'll be back next time with Paul the Box Office Guy. Thanks, Brad . . . I guess.

Brad: No probs, Whiz!
I can't believe I'm about to say this, but I can't wait to have Paul back again. To be honest, I think I might email the movie theater and suggest the immediate termination of Paul and Brad the Box Office Guys. Don't tell them I said that!
Now I'm going to give a quick, spoiler-free review of TFAWTS (part of which I already wrote for my unpublished post). Here it is:
So far, The Falcon and the Winter Soldier seems to focus more on the post-Blip (or post-Snap) world, and how superheroes interact in their daily lives. But, of course, there's no shortage of incredible action, which is somewhat rare for television. But in the first five episodes, the action sequences have been FANTASTIC! It's also fun (yet a bit confusing at times) about how it moves around the world. From Washington D.C. to Madripoor, the setting in the different locations reminds me of Captain America: Civil War. So far, the standout performances have been given by Anthony Mackie, Wyatt Russell, and Daniel Brühl. Actors and actresses can sometimes shine their talented light brighter on television rather than the big screen. Probably because they have more time to try out different skills.
That being said, a few of the episodes can drag at times, and some of the politically motivated conversations about race can have an unclear demographic. Though those scenes have deep writing, the message is mainly focused for only one group of people. Another critique is that Marvel Studios is trying to make you, as I heard one critic put it, "care about characters you don't care about". I don't completely agree with that, but I partially do. I never really cared about Falcon or Sharon Carter beforehand, although I did like the characters of Winter Soldier and Baron Zemo. This show hasn't really changed that for me. They've tried really hard to develop an arc for the character of Sam Wilson/Falcon, which hasn't necessarily succeeded nor failed, in my opinion. The best plot line by a milestone is the introduction of John Walker, a former military captain appointed as the new Captain America. But I won't spoil that for you. 😉
Also, I can tell that the episodes are written by different people. Each episode has some minor form of a different tone or a small shift. But the main critique that I have is this: there needed to be more episodes. At least, that's what these first five out of six episodes have made me think. Maybe it didn't need more episodes, and if so, that means that these episodes have been written very poorly. The content isn't written poorly, but the overall script as a whole is. What I mean is that the first episodes of the series (especially episodes 1-3, but also pieces of episodes 4 & 5) have been written like they're the first episodes of a ten to fifteen episode series. That not only frustrates the audience, but it puts a lot of pressure on both the penultimate (second-to-last) and the final episodes. After seeing the penultimate episode, it appears that it just carried more of its load onto the finale. Marvel Studios President Kevin Feige and star Anthony Mackie both marketed this as a six-to-eight hour series. If it truly WAS a six-to-eight hour series, then it would be better as a whole. So, unless the finale is 3h 32m long, this isn't going to be an eight hour series. It's possible that it could be a six-hour-series, but even that's a stretch. It would have to be 1h 32m long. Anyway, back to my main point. Due to the delay of the reveal of the Power Broker (that's not a spoiler, so don't get mad at me!) and some new plot threads that were set up in episode five, the finale has to tie up a LOT of ends and not only finish character arcs, but begin them, as well, and, if the Power Broker's identity is revealed (and it's not already a character in the series), then their arc has to begin and possibly finish in one setting.
Part of the reason the episodes feel like part of a longer series is partially because they are. Yesterday, I found out that there was reportedly an entire storyline cut from the show. The plot line dealt with a virus and getting vaccines out to people. Sound familiar? Yeah. Since the show was written before the pandemic (around late 2019), Marvel Studios obviously decided to cut that storyline while the show was in post-production due to what was, and still is, happening in the world. So, that storyline likely would've created a longer runtime and thus possibly justified the show's slow start. If you want to learn about the clues left behind about this reportedly scrapped storyline, here's a video that breaks it down.
So, in short, The Falcon and the Winter Soldier is a fun, action-packed, character-based yet unsure buddy superhero show that works best as a binge series. So, if you don't like a political drama mixed with comedy, a show that tackles big issues, and a Disney+ original that explores mostly undeveloped characters, this is right for you. So, sign up for $7.99 a month right now at disneyplus.com.
But now, before we get into my finale predictions, let's introduce the characters of TFATWS.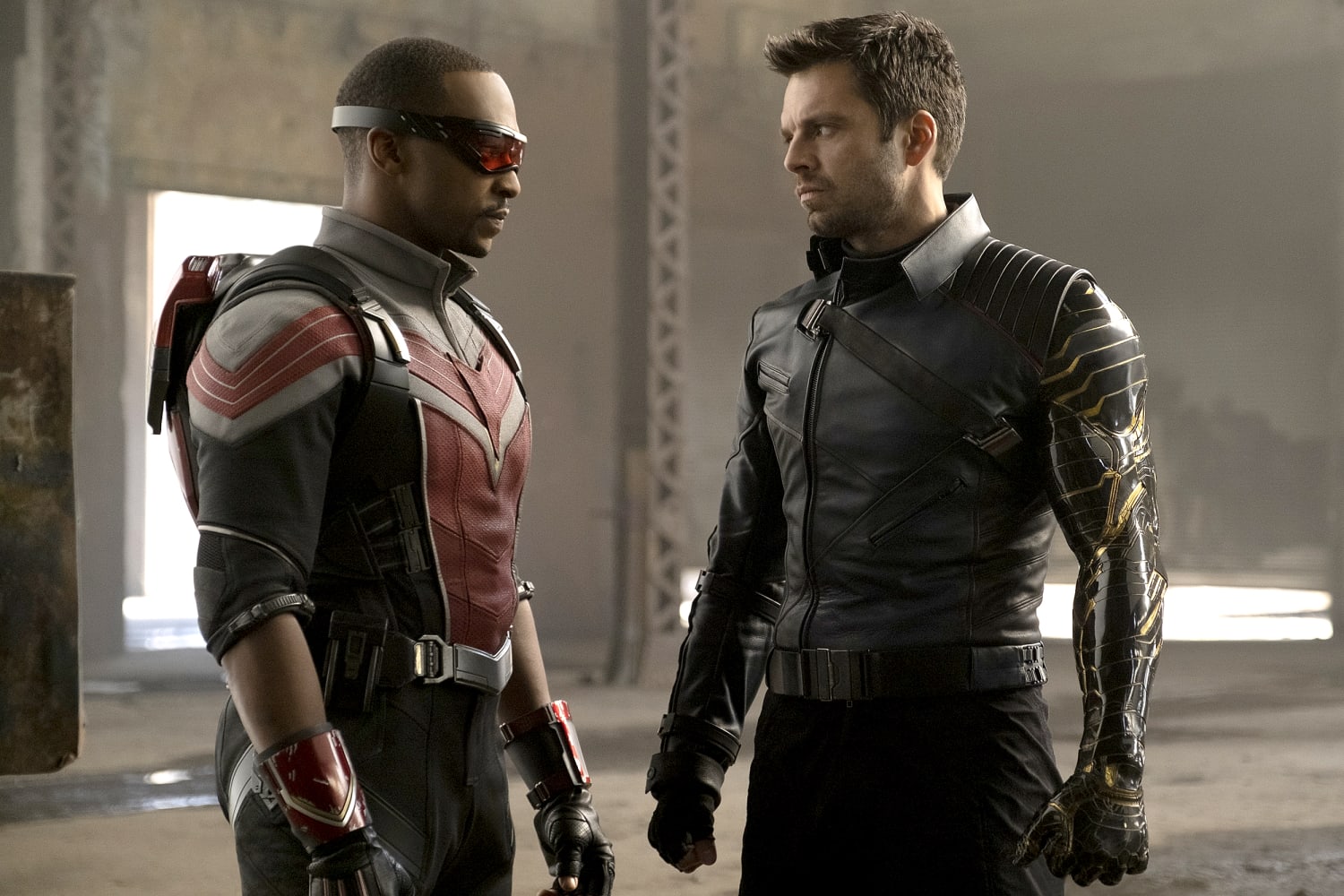 Just so you know, this is where it's going to get very spoiler-y, so turn away now! One last chance . . . alright, let's go into the Dungeon of Spoilers.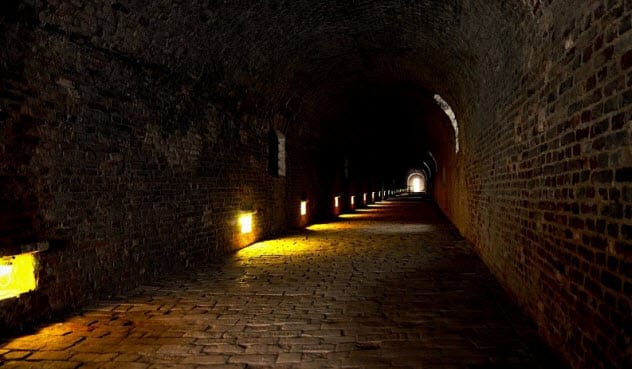 Here we are. So, here's the cast and the characters.
Anthony Mackie as Sam Wilson/Falcon, an Air Force veteran and Captain America's former wingman who was given Captain America's shield at the end of Avengers: Endgame. However, at the beginning of the series, he hands it over to a museum in Washington D.C.
Sebastian Stan as Bucky Barnes/Winter Soldier, a formerly brainwashed assassin and Captain America's childhood best friend. Angry that Sam didn't take up the mantle of Captain America, Bucky goes with Sam on his mission and attempts to get him to take back the shield.
Emily VanCamp as Sharon Carter/Agent 13, a former top-notch S.H.I.E.L.D. agent who has been on the run since breaking the law in Captain America: Civil War. She's found hiding undercover in Madripoor, but there are several theories that she is the Power Broker (which I'll explain later).
Wyatt Russell as John F. Walker/Captain America, the new Captain America appointed by the Department of Defense. Originally wanting to work with Sam and Bucky, he later becomes their enemy and becomes increasingly impatient.
Erin Kellyman as Karli Morgenthau/Flag Smasher, the leader of the radical anti-patriotism group known as the Flag-Smashers. Having taken the Super-Soldier Serum, she's determined to get life back to what it was like during the Blip*.
Julia Louis-Dreyfus as Contessa Valentina Allegra de Fontaine, a mysterious woman who approaches John Walker after he is stripped of his role. Louis-Dreyfus' role was a surprise cameo in episode five, and was kept top secret.
Florence Kasumba as Ayo, a member of the Wakandan defense tribe the Dora Milaje who arrives in Latvia to capture Zemo. Like de Fontaine, Ayo's character was a secret role, first appearing in episode three.
Danny Ramirez as Joaquin Torres, a first lieutenant in the military and Sam's ally who tracks the Flag-Smashers.
Georges St-Pierre as Georges Batroc, the leader of the terrorist group LAF. He also appears in episode five to team up with the Flag-Smashers.
Adepero Oduye as Sarah Wilson, Sam's sister and the owner of Wilson Family Seafood. She resides in Delacroix, Louisiana.
Daniel Brühl as Baron Helmut Zemo, the man responsible for the split of the Avengers who was caught and imprisoned in Captain America: Civil War. He is broken out of prison by Bucky so he can supply knowledge of HYDRA and the Super-Soldier Serum to them.
Don Cheadle as Col. James "Rhodey" Rhodes/War Machine, Tony Stark's former best friend who speaks to Sam in D.C. about the shield
Amy Aquino as Dr. Christina Raynor, Bucky's therapist
Gabrielle Byndloss as Olivia Walker, Walker's wife
Clé Bennett as Lamar Hoskins/Battlestar, Walker's partner and best friend who accompanies him on his mission
Carl Lumbly as Isaiah Bradley, a black military hero during the 1950s and the Korean War who was injected with the Super-Soldier Serum and experimented on for decades
Chase River McGhee & Aaron Haynes as Cass and AJ Wilson, Sarah's children and Sam's nephews who survived through the Blip
Ness Bautista, Desmond Chiam, Tyler Dean Flores, Dani Deetté, Indya Bussey, Noah Mills, and Renes Rivera as Matias, Dovich, Diego, Gigi, DeeDee, Nico, and Lennox, members of the Flag-Smashers group
*In the Marvel Cinematic Universe, the Blip is the era between 2018-2023, when half the world disappeared due to Thanos snapping his fingers. It's a long story.
So, there's your character guide to the series. And now, I'm going to write a quick rundown of the synopsis of the show this far before I get to my theories. Lots of setup here!
Side note: If you want to know which movies or TV shows to binge watch before the finale of TFATWS, Marvel Studios posted a list this morning.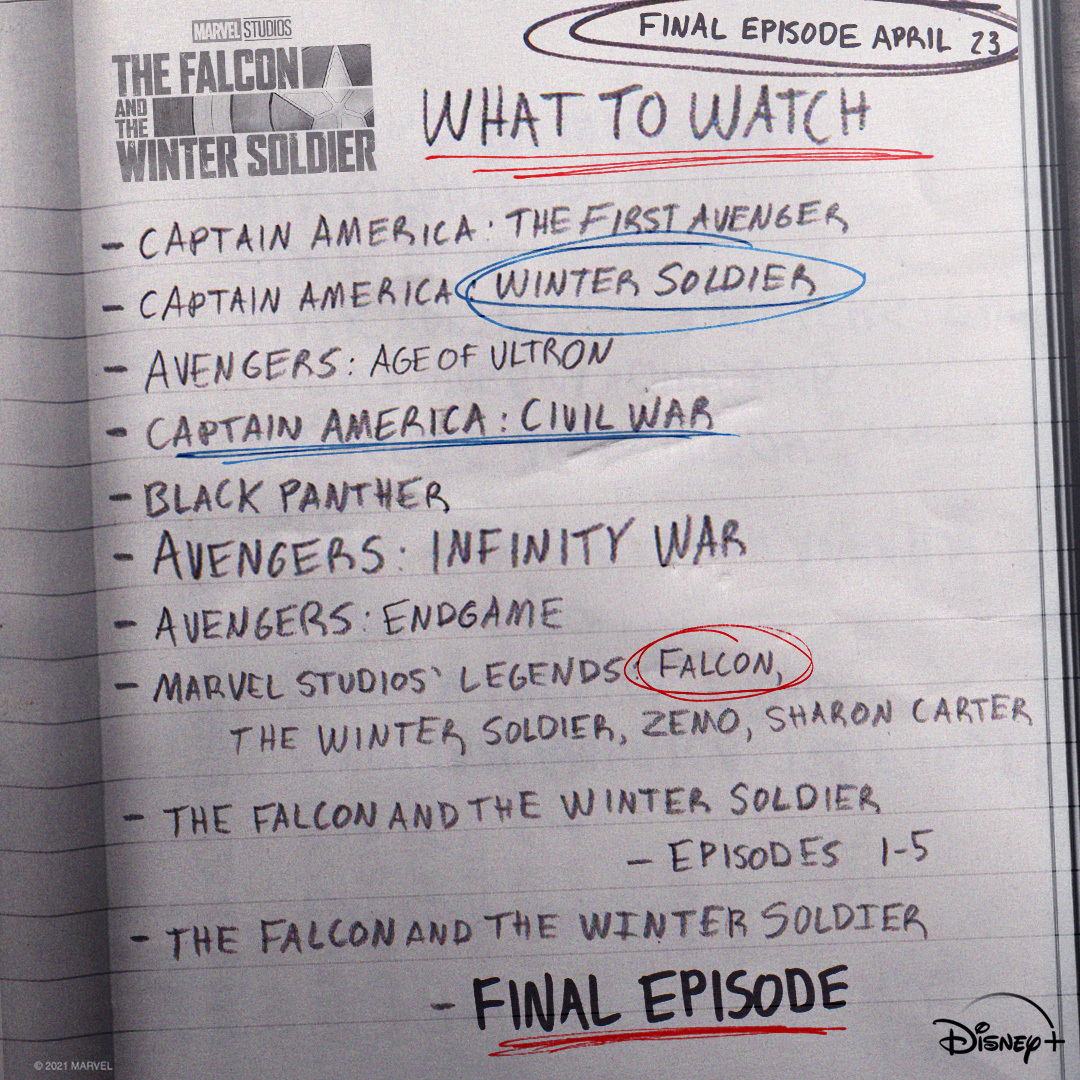 Okay, now for our next subject: The Synopsis.
Here we go. I'm going to make this as quick as I can. On your marks, get set . . . GO!
Six months after the events of Avengers: Endgame, set in 2024, Sam Wilson suits up as the superhero Falcon to stop Georges Batroc and the terrorist group LAF after they kidnap Captain Vassant of the United States Air Force. He is assisted by First Lieutenant Joaquin Torres on the ground. Sam defeats all the LAF members and saves Vassant, though Batroc escapes. Afterwards, Sam meets with Torres, who tells him about a radical anti-patriotism group called the Flag-Smashers who think the world was better during the Blip. Torres leaves for Switzerland, where he is caught in the middle of a Flag-Smasher robbery and brutally injured by one of the members, Dovich, who has superhuman strength. Sam returns to Washington D.C., where he donates Captain America's shield, which he was given by Steve Rogers at the end of Endgame, along with the title of Captain America. Deciding against taking up the mantle, Sam gives a speech at the museum and talks with fellow Avenger James "Rhodey" Rhodes. He then arrives in Delacroix, Louisiana, to help his sister Sarah fix the Wilson family's boat, and to help her get a loan for the family business, although they are not approved, even when Sam is recognized as an Avenger. Soon after, Sam and Sarah watch the news, which shows a man being named the new Captain America.
Meanwhile, after being pardoned by the President offscreen due to his previous crimes as the Winter Soldier, James Buchanan "Bucky" Barnes goes to a counseling session, speaking with his therapist Dr. Raynor, who requests that he make amends with families of people he killed when he was the Winter Soldier. Bucky goes on a date with a bartender named Leah, but it is interrupted when he leaves to make amends with his friend Yori Nakajima, as he realizes that he killed Yori's son when he was the Winter Soldier. He then sees an interview on Good Morning America with John F. Walker, the new Captain America, at his high-school football stadium.
Upset, Bucky meets with Sam at the United States Air Force Base, trying to convince him to take back the shield. Sam refuses and suits up as Falcon to go on a mission with Torres to confront the Flag-Smashers in Munich. Bucky also suits up, flying along with Sam. They fight the Flag-Smashers on top of their truck (which is carrying smuggled supplies), though the leader of the Flag-Smashers, Karli Morgenthau, destroys Sam's drone Redwing. Sam and Bucky are almost defeated until John Walker and his military partner Lamar Hoskins, also known as Battlestar, arrive. However, Morgenthau, Dovich, and the rest of the Flag-Smashers escape to a refuge supplied by a citizen named Rudy. They are forced to soon flee, however, when the mysterious Power Broker sends his/her agents after them. One of the members, Matias, is killed, but the rest fly away in time.
After the fight, Walker and Hoskins try to recruit Sam and Bucky, but they decline, deciding to work on their own, which frustrates Walker. Bucky takes Sam to Baltimore, introducing him to an elderly man named Isaiah Bradley, who Bucky once fought as the Winter Soldier. Isaiah quickly becomes angry, telling Sam that he was injected with the Super-Soldier Serum decades ago, and he was put in prison and experimented on for thirty years. He kicks them out, and the police take Bucky to a local prison since he missed his therapy session. Walker bails Bucky out, but Dr. Raynor still arrives and does a "couples' counseling session" with Sam and Bucky, in which Bucky reveals that he's mad at Sam because he didn't keep the shield, which Steve Rogers (the previous Captain America) wanted. Sam thinks he did what was right, and he leaves with Bucky. They have another conversation with Walker, who gives them one more opportunity to work together. Sam and Bucky turn it down, and Walker harshly tells them to stay the out of his way. Walker then leaves with Hoskins, and they attempt to find the Flag-Smashers by tracking the Flag-Smasher symbol.
Thinking that HYDRA has something to do with the Flag-Smashers, Bucky convinces Sam to allow him to talk to HYDRA expert and dangerous criminal Baron Helmut Zemo in prison. Instead, Bucky breaks Zemo out of prison, and Zemo takes him and Sam to Madripoor, forcing them to disguise their identities. They try to understand the history of the Flag-Smashers and the unknown identity of the Power Broker, and gain help from Sharon Carter/Agent 13, who has been on the run for eight years since breaking the law. Sam, Bucky, and Zemo speak to Dr. Wilfred Nagel, who reveals that the Flag-Smashers are injected with his recreated doses of the Super-Soldier Serum (Steve Rogers and Bucky both had a shot of the original), and Karli Morgenthau stole several doses of the Serum from the Power Broker. Zemo then kills Nagel to prevent him from making more doses, and, after fighting with bounty hunters, he leaves with Sam and Bucky, who thank Sharon for her help. They then fly to Latvia after learning from Torres that Morgenthau's mother figure Donya Madani has died in that region. Bucky then discovers that Ayo, a member of the Wakandan tribe the Dora Milaje, has arrived in Latvia, as well, hoping to confront Zemo, who killed the Wakandan King T'Chaka eight years ago. Walker and Hoskins appear in Latvia to work with Sam, Bucky, and Zemo. Zemo finds out with Morgenthau will be appearing next: at Donya Madani's funeral.
Sam peacefully speaks with Morgenthau, who reveals her point of view: when half of life came back into existence in 2023, she felt that organizations like the Global Repatriation Council (GRC) put those who returned ahead of those who had lived through the Blip. Sam agrees with her, just not the way she's violently dealing with it (she burnt down a building in episode three). He almost turns her good until the irritated Walker invades, attempting to arrest Morgenthau, who turns violent against the group. During the chaos, Zemo destroys all but one of the remaining doses of the Super-Soldier Serum, which the Flag-Smashers had tried to get out to other people. Afterwards, Ayo and the Dora Milaje confront the group, trying to capture Zemo, who escapes. They defeat Walker and leave, searching for Zemo. Walker takes the final dose of the Serum offscreen, transforming into a Super-Soldier. During another fight with the Flag-Smashers, Morgenthau inadvertently kills Hoskins, causing Walker to go NUTS on a surrendering Flag-Smasher named Nico, killing him in cold blood with the shield. He then flees to a warehouse, where Sam and Bucky confront him, with Sam telling him to give him the bloody shield. A fight emerges, in which Walker destroys Sam's wing suit, Walker's arm is broken, and Sam retrieves the shield.
All three return to the United States. Walker is given a dishonorable discharge and is stripped of his role of Captain America. He and his wife are then approached by Valentina "Val" Allegra de Fontaine, a mysterious contessa who wants to keep in touch with Walker. On the other hand, Sam meets with Torres, leaving his broken wing suit with him and taking the shield. He then goes to Isaiah Bradley, having an emotional conversation with him in which Isaiah tells Sam his full history. Along with several others, Isaiah, a war hero, was injected with the Serum. He was the only one survived. Thus, he was imprisoned and experimented on and tortured every day for years. Eventually, a nurse had him written off as dead so he could go off and live his life. However, by then, his wife had already died. Sam is affected by this, and goes to Delacroix, Louisiana to live normal life with his sister Sarah and her children, AJ and Cass. After returning to the U.S., Bucky flies to Sokovia, where he finds Zemo at a memorial (his family was killed in the 2015 events of Sokovia in the MCU). Ayo and the Dora Milaje also arrive, capturing Zemo and taking him to an underwater prison called the Raft, where he will remain the rest of his life.
Bucky then also arrives in Delacroix, helping Sam and Sarah with repairing their boat and training with Sam, both of them using the shield. Bucky also gives Sam a case from the Wakandans, and he later leaves to prepare for a fight with the Flag-Smashers.
Still in Madripoor, Sharon Carter seemingly lets Georges Batroc out of an Algerian prison. He arrives in New York City, working with Karli Morgenthau and the Flag-Smashers . . . but only so he can kill Sam. The Flag-Smashers and Batroc begin to infiltrate a GRC building where a controversial act is being passed.
In a mid-credits scene, John Walker is seen building his own Captain America shield.
Whew. This post has already turned out longer than I wanted it to be. And I haven't even gotten to my main subject yet! Jeez loweez. Maybe I'll trim down some of that plot.
Well, since I'm running out of time, I think it's best now to get right ahead to my theories. However, these aren't really theories. Like last time, a friend of mine named [Retracted] works as an executive producer at Marvel Studios. He knows all the confidential information about the different TV shows and movies. So, he sent me several files spoiling what will happen in the finale of TFATWS. Am I telling the truth? No comment. 😉
Let's get to it!
File #1: Sam Wilson Will Become the New Captain America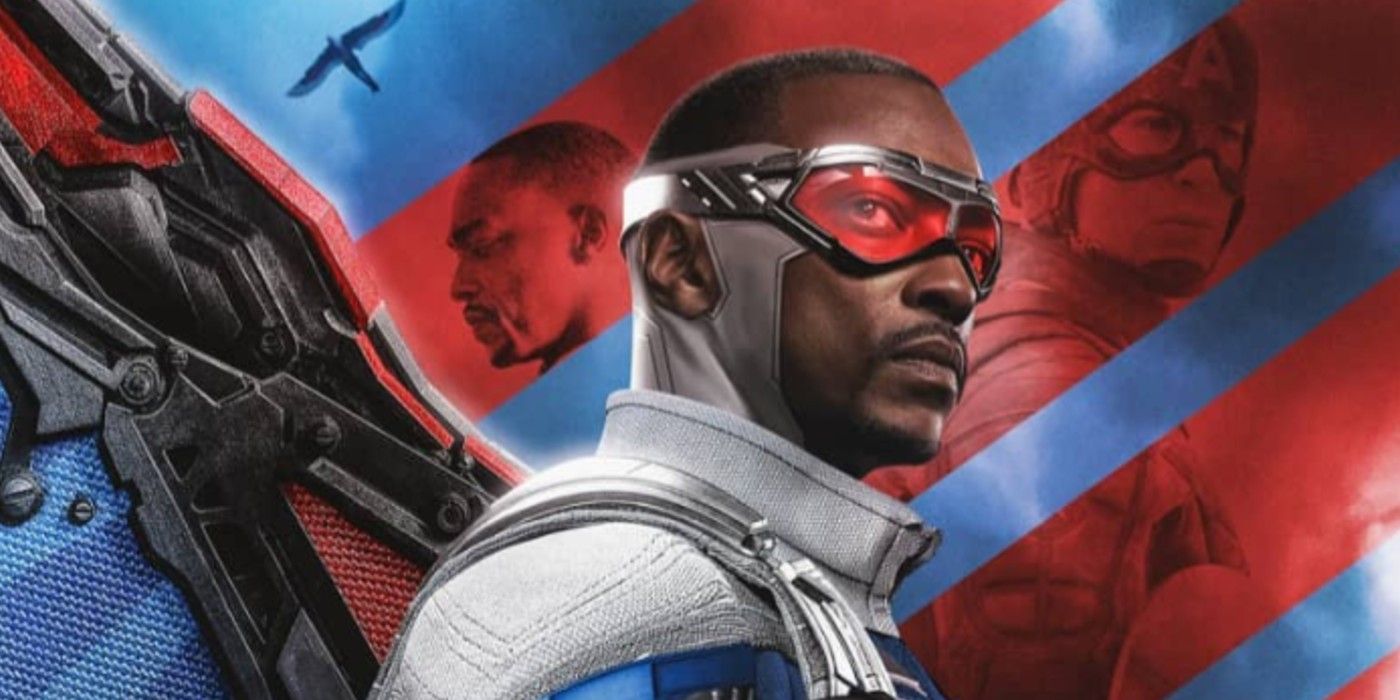 The Evidence: This is a bit of an obvious one. For several reasons. (1 Sam's entire arc throughout this series has led to some sort of conclusion for him, likely him adopting the identity of Captain America (2 The "favor" Bucky called in from Ayo and the Dora Milaje is likely a new Captain America suit for Sam made out of vibranium — plus, the way Sam looked at what was inside the case from Ayo in the last episode pretty much made it a fact (3 There has been no footage of Sam in the finale, unlike the other main characters Walker, Sharon Carter, Bucky, Batroc, and Morgenthau, meaning that he's likely wearing a new suit (4 There have been some leaks that have made it onto the internet pretty much confirming this (5 Steve Rogers WANTED Sam Wilson to become the new Captain America. They wouldn't just abandon that plotline.
So, all in all, I'm looking forward to seeing Sam Wilson/Falcon (or rather, Sam Wilson/Captain America) in action with the shield in the finale!
File #2: Joaquin Torres Will Become the New Falcon
The Evidence: I hadn't heard about Joaquin Torres when the series started, but I found out that, in the comics, he's Sam Wilson's friend and he becomes the new Falcon at some point. There have been some signs that point to this happening in TFATWS. Mostly a small comment in the last episode from Sam when he's talking to Torres: Torres discovers that Sam's wing suit has been destroyed by John Walker, and Sam starts to leave the room. Torres then asks if he's going to take the wings, and Sam replies, "Keep 'em." Now, this could simply be a wink at the audience or an Easter egg for fans. BUT, it could also point towards Torres keeping the wings, fixing them, and donning them. Like Sam, Torres made his start in the Air Force, so this is certainly possible.
Plus, Danny Ramirez, who plays Joaquin Torres in the show, had an interview with Collider yesterday. They asked him about his possible future as Falcon. He replied,
So yeah, if he turns out to be more like something in the comics, that'd be fun to play with. But I know as much as you. I still have yet to see the season finale. We'll find out together.

Danny Ramirez, in a Collider interview
Of course, we might not get to see Joaquin Torres suit up as Falcon in the finale, but some of the Marvel Studios producers (including my friend who feeds me secret leaks) have teased a possible season two. So, this theory could be expanded upon in season two. But I am confident that Joaquin Torres has a future in the MCU, whether that be as Falcon . . . or as Falcon. 😉
File #3: And the Power Broker Is . . .
Valentina Alle . . . ahh, Let's Just Call Her Val Longname
The Evidence: This was the hardest theory to come up with. The Power Broker character will obviously be revealed in the finale, but I had trouble coming up with who it was. Many people have suggested Sharon Carter is the Power Broker. After all, the evidence is overwhelming. But I won't get into that right now. I think that something weird is going on with Sharon Carter, but Marvel Studios is trying to mislead us. If you think about it, Sharon has no strategy and no purpose if she was the Power Broker. Val Longname does. Why would they introduce her in the last episode if she wasn't going to play a big role in the finale? After all, Julia Louis-Dreyfus isn't just someone to include without giving her the spotlight. And, she got sixth billing, which is pretty high, especially considering the other actors who have big roles in the show. AND, producer Nate Moore says that her character will be "making more waves sooner rather than later". There are rumors that she will be appearing in the upcoming Black Widow film, but I don't think that's what he was referring to.
Anyway, back to her strategy. I hadn't heard of Val Longname before last week, but I do know that she's heavily involved in both S.H.I.E.L.D. and HYDRA in the comics, from being Nick Fury's girlfriend to becoming Madame HYDRA. So, what her strategy might be in the show: she's a big time HYDRA agent who's trying to recruit John Walker and use him to her advantage. Now that he's taken the Super-Soldier Serum, he's dangerous, and he poses a threat to both Sam and Bucky . . . and Karli Morgenthau. The Power Broker has sent Karli several threatening texts throughout the show, and I don't think it would be hard to believe if the Power Broker wanted Karli dead for stealing her Serum. I mean, come on! Her first text to her is literally: "I will find you and kill you." So, she wants to get Walker on her side so he can kill Karli. He did just kill a Flag-Smasher with no emotion because Lamar was accidentally murdered, so he could kill Karli, no problem. But one question people haven't been asking is: why does the Power Broker need Super-Soldier Serum? I'm not going to answer that, but we know that the Power Broker needs the Serum . . . or somebody WITH the serum. A.K.A. John Walker. See what I'm getting at here?
File #4: Thunderbolt Ross Will Appear
The Evidence: I believe that there will be one last big cameo in the finale of TFATWS. It may not be a big deal (likely a mid- or post-credits scene), but I think that Marvel Studios has one more trick up their sleeves. Star Anthony Mackie teased that there would be "several" surprise roles. So far, the surprise roles have been Isaiah Bradley, Ayo & The Dora Milaje, and Val Longname. That qualifies as "several" to me, but it also leaves the door open for one last cameo.
But why Thunderbolt Ross? Or, more specifically, Thaddeus E. "Thunderbolt" Ross. The jerky former Secretary of State who was killed by Thanos' snap and resurrected by Hulk's snap five years later. Well, there's not a lot of proof to this. In fact, most people are thinking Chris Evans will reappear as Captain America for the finale. That's certainly possible, but I just don't know. I've heard Thunderbolt Ross's name come up more lately, and he seems like the type of character this show would include. He's been confirmed to have a supporting role in the Black Widow movie, so maybe this could tie into that somehow. But, mainly, with both Helmut Zemo and Val Longname appearing in TFATWS, I think they might be setting up a potential plot about the Thunderbolts, a group of Marvel supervillains from the comics. And, due to the name, I assume that Ross has something to do with that. But maybe not. I need to do more research. I just have a feeling that he'll appear. Speaking of Zemo . . .
File #5: Zemo Isn't Done Yet
The Evidence: This one might be controversial. The facts don't necessarily back me up. All of the footage of Zemo in the trailers has already appeared in the show, and the last episode seemed to close out his arc for the series. That being said, I would HATE it if the last we saw of Baron Zemo was him being led off by the Dora Milaje to a literal underwater prison . . . run by Thunderbolt Ross. Maybe that proves my point!
Anyway . . . the only photo of Zemo that we haven't seen in the show yet is the one above. But maybe Daniel Brühl just had that photo taken for a promo. No matter what, I simply included this one on the list because I love Zemo! He's such a great, manipulative character with a great villain motivation. I would be disappointed to barely see him with his signature purple mask on for only one episode.
File #7: Marvel Studios Has More In Store For John Walker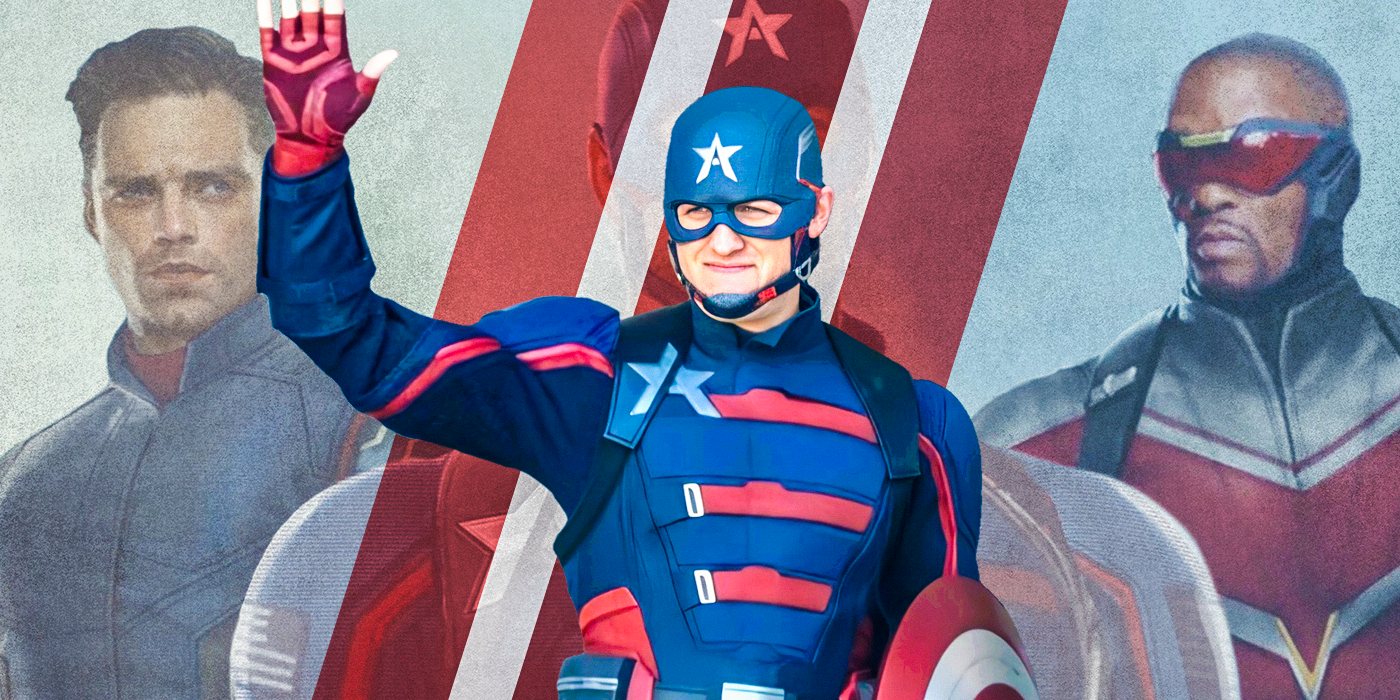 The Evidence: In my opinion, the most compelling storyline of this show so far has been about John Walker. He's such an interesting, conflicted character (he reminds me of Kylo Ren). He started out good. He was a war hero! He had a ton of metals, and even got an interview with Sara Haines. Then we saw some evil sides of him in episodes two and three, and then there was episode four . . . where he killed a guy in cold blood. And then there was episode five . . . where he screamed at a government official and lied to his dead friend's parents to make himself feel better. Wow. What a downfall.
He will certainly have a big role in the finale, especially since we've seen half a second of him in a promo decked out in the Captain America outfit with a shield. Likely the shield he was forging in the last episode. But I don't think he'll be killed off. He might reappear in TFATWS Season 2 (if that season moves forward), or in a future movie or series. He'll certainly become the U.S. Agent character from the comics in the upcoming episode. After that, I'm pretty confident that we'll see him again.
File #8: We Will See the End of Georges Batroc . . . and One Other Person
The Evidence: Georges Batroc has been an underused character in the MCU. I'm sure fans were pleased when he was brought back in TFATWS. Known as Batroc the Leaper in the comics, he was set up in last week's episode to pose a serious threat to Sam Wilson. But, if I'm correct, he'll fight with Sam, almost defeat him, and then get killed off once and for all. But there will be one more character who is sure to be doomed . . . who is it? My producer friend didn't give me the specifics on this one, so it's time to brainstorm! Comment down below who you think will meet their end in the finale. Could it be Sharon Carter? The Power Broker? Helmut Zemo?
File #8: We're In For A Massive Fight
The Evidence: I won't elaborate on this a lot. Just to say, we're going to have a BIG fight between a LOT of characters in the finale! Something that I love! WandaVision's finale did this, as well, with Wanda, Vision, the twins, and Monica teaming up against Agatha, White Vision, Hayward, and S.W.O.R.D. agents for the first half, and closing out character arcs for the second half. TFATWS may be similar. Here are the characters that are determined to have a show-off:
Sam Wilson/Captain America
Bucky Barnes/Winter Soldier
John Walker/U.S. Agent
Karli Morgenthau/Flag-Smasher
The Rest of the Flag-Smashers
Georges Batroc
Sharon Carter/Agent 13 (possibly)
And now, for my final, and most hopeful, prediction . . .
File #9: The Runtime Will Be the Longest Yet
The Evidence: I don't have a lot to say about this. I just really want a long runtime for the finale so it can take its time. But I hope it's fast-paced yet both plot- and character-based. I was somewhat disappointed by WandaVision's finale, but I won't be cynical about this. Usually the runtime leaks online, but it didn't for this episode. Hmm . . . why? Because the Redditor who leaked all the runtimes (and Julia Louis-Dreyfus' cameo) deleted his profile! Yes, I checked! How rude.
How long do you think this episode will be? 30 minutes or 120 minutes? I say it'll be about . . . 75 minutes.
And those are my theories!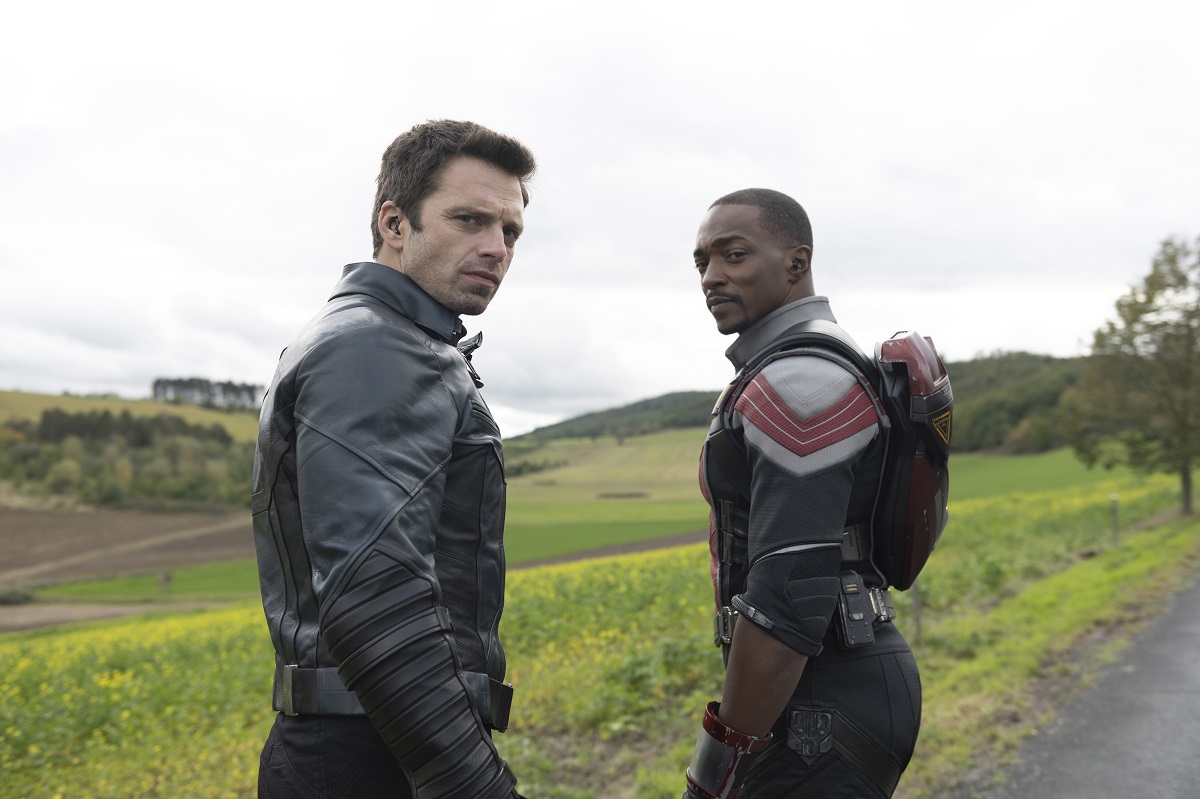 Well, I have to go now, because it's going to be midnight soon, which means it'll be Friday, and then I'll have to rewrite every time I said "yesterday" to "two days ago". Plus, I need to get to bed. Post your theories down below in the comments section if you're a TFATWS fan, and I'll be back again soon! And be sure to check out The Falcon and the Winter Soldier on Disney+, directed by Kari Skogland, created by Malcolm Spellman, and starring Anthony Mackie, Sebastian Stan, Emily VanCamp, Wyatt Russell, Erin Kellyman, Julia Louis-Dreyfus, Florence Kasumba, Danny Ramirez, Georges St-Pierre, Adepero Oduye, with Daniel Brühl, and Don Cheadle.
Whiz Kid out
P.S. It's past midnight now. Oh, well. I'm not gonna change the "yesterdays"!