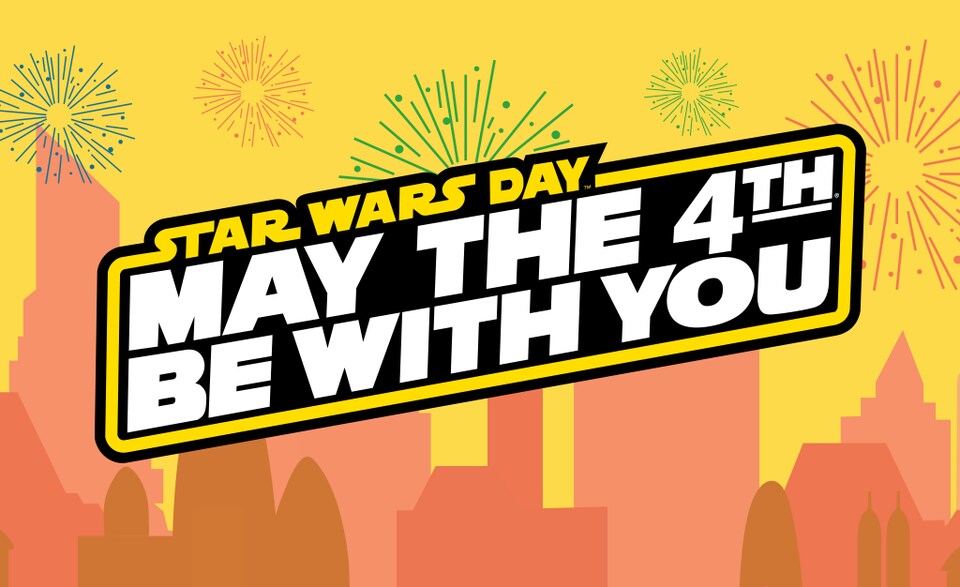 As it says in the title, this is going to be a very quick post.
I'm very busy today, and I didn't have time to right a whole post . . . but I also couldn't ignore my tradition! I always post a May the 4th article up for Star Wars Day! It's one of my favorite days of the year! In fact, it's the most wonderful time of the year! That's a big leap.
So just to give you a May the 4th post, I'm just going to quickly list a few of my top Star Wars characters, and then share something else I wrote a while ago . . . but for now, here's some of my favorite Star Wars characters! In no particular order . . . it's too hard in particular order.
Yoda
C-3PO
R2-D2
Kylo Ren
Darth Vader
Obi-Wan Kenobi
Emperor Palpatine
Chewbacca
Han Solo
Leia Organa
Poe Dameron
Boba Fett
D-O
BB-8
Jar Jar Binks (no thank you!)
There's a ton other characters that I love, but those were some that I could think of. And just to make this post a bit longer, I want to introduce to you a series that I wrote a while ago: VS. VS is basically a hypothetical situation in which two Star Wars characters (of my choice) battle it out — two that have never fought each other in the movies before or didn't for very long. I'll just introduce the first two, and then I'll keep posting them for a while. So far I've only written five, but I plan to write more soon. Enjoy episodes one and two of VS!
VS.
Episode I:
Battle of the Force Users
Location: Starkiller Base (even though it blew up)
Opponents: Luke Skywalker (Good) and Kylo Ren (Bad)
"We meet once again, Ben," says Luke Skywalker, his hood raised.
"Skywalker, you have no permission to say that name!" Kylo Ren rages, talking roughly through his mask.
"Then why did your father say it?"
Ren's red crossguard lightsaber blade ignites.
Luke takes his lightsaber hilt from his belt with his robotic hand and ignites it. His is green.
Ren lunges at Skywalker, using a Force Jump.
Skywalker blocks the hit from the crossguard, and returns the blow.
Ren blocks, then slashes at Skywalker three times, which is blocked, and then twirls and slashes one more time.
Luke blocks and uses a Force Push to force Ren away.
Kylo throws his crossguard at Skywalker.
Luke lunges behind a scrap piece of metal and instead Kylo's crossguard cuts a very large tree's stump off and the tree starts to fall.
"Oh, snap," says Ren.
Ren Force Jumps onto a tree and bounces onto another, and another, and another. . . .
Meanwhile, Skywalker is about to be KO-ed.
Luke is running very fast, the large tree destroying things behind him as it falls; he can't find a place to Force Jump off of.
Then there it is: another large tree. Luke Force Jumps onto it just as the tree comes to a final stop.
INTERMISSION
Kylo Ren is walking in the leaves of a tree. He climbs onto more of the branches and comes to the very top where he gets a complete view.
But that comes to an end quickly.
KO
Skywalker runs past Ren, who is kneeling and tossing his hands up in exaggerated defeat, and Force Jumps onto another tree.
"What a world, what a world . . . !" screams Kylo.
Rewind:
Luke is climbing and Force Jumping on trees and comes to a great view on the top of one. He looks around for Ren, but there's no sign of him.
But then Skywalker sees something on the snow below him.
Footprints.
Skywalker follows them a short distance and sees that they end at a tree. Luke looks up in the tree and sees a dark robe and mask, which appear to be climbing.
Kylo Ren.
Luke quietly Force Jumps onto another tree and sees that Ren has made it to the top and is viewing his surroundings.
Luke quietly ignites his lightsaber. Ren starts, but Luke throws his lightsaber and —
KO
Luke Force Jumps onto the tree and sees Ren's figure, screaming, "What a world! What a world!" and throwing his hands up in defeat.
"Maybe next time," Luke says to Kylo, and Force Jumps onto the closest tree.
JOIN US NEXT TIME FOR EPISODE TWO:
FACTORY TAKEDOWN
So there's episode one. Moving onto episode two in a moment here. But first, DISCLAIMER: I WROTE THESE OVER TWO YEARS AGO, SO THE WRITING MAY NOT BE GREAT. PLEASE ENJOY ANYWAY! Moving onto episode two. Place your bets! Mace Windu or Count Dooku?
VS.
Episode II:
Factory Takedown
On the large, rocky planet of Geonosis, there is an arena where Anakin Skywalker, Padmé Amidala, and Obi-Wan Kenobi once started the famous Battle of Geonosis . . . but let's not tell the story of one of the worst Star Wars movies that had too much love and terrible actors in it. But that arena . . . has occupants in it.
"Dooku."
"Master Windu. Delighted to see you."
"You are not fit to run an entire factory, Dooku."
"What factory?"
"You know, the droid factory that the greedy separatists run."
"Excuse me, Master Windu, but did you say . . . 'greedy'?"
"Correct."
ZZZZZZ. Separatist and Sith Lord Count Dooku electrocutes Jedi Master Mace Windu as he flings him into the wall of the arena.
"Ha ha ha ha."
Count Dooku smiles as he takes off his master's robe that he borrowed, revealing an elderly, bearded face with slick gray hair.
"How pathetic," Dooku taunts Mace Windu as he walks around the arena, his cape floating behind him. "You're supposed to be a Jedi Master? I wouldn't believe it for a second!"
"How dare you!" Windu replies as he tries to lift himself up but fails, panting. "The Jedi will defeat you, Dooku! Just watch out!"
"Oh, really?" Dooku electrocutes Windu more, flinging him back into the wall as he just gets back up.
Dooku laughs.
"This will be easier than I thought," laughs Dooku, getting thoroughly arrogant.
Bang. Dooku is flung out of the entire arena by Windu, who manages to use the Force and get back up again.
"Braggart . . . " Windu mumbles as he stands up and spreads his arms in victory.
Windu stands for a full minute before bringing his arms back down, saying, "Come on! No confetti, no presents, no jackpot?"
Pew, pew, pew. Shots suddenly shoot at Mace as he Force Jumps out of the way just in time and Force Pushes the shooting Battle Droids back into each other. But suddenly, a handful of Super Battle Droids start shooting at Mace, too, as he ignites his lightsaber and blocks the shots, sending them back at the Droids and damaging them roughly.
But then something terrifying . . . something dreading . . . something monstrous approaches. It rolls toward Windu in a ball and then stands up to reveal its real self.
A droideka.
Ten more follow behind the first and stand up and start shooting at Mace nonstop, shields up.
Windu suddenly makes a big move. Crouching down, he suddenly Force Jumps all the way out of the arena, across the humongous hundreds of feet between the arena and the droid factory, and into the droid factory itself.
Battle Droids are being made everywhere the eye can see, being produced by working machines that are all controlled by the separatists. Windu is amazed by this; only a few of the Republic were able to see inside it besides the separatists.
Windu looks around and around. Dooku could be anywhere.
"Hello, old friend Mace," says a voice from behind him.
Windu quickly turns around to see a flash of red . . .
INTERMISSION
Dooku is standing at the exit of the droid factory, waiting for a sudden strike of action. He's surprised that there wasn't a KO after throwing his curved red lightsaber at Windu. However, when it drew back to him, Windu was gone. Disappeared.
After waiting ten minutes, Dooku calls out, "Master Mace, come out of your hiding. I'm beginning to get . . . as you fools say it, 'aggravated.' "
Dooku waits a moment. Then, rolling his eyes, he starts to walk around and examine the ceilings, looking for any trace of Mace.
Then it comes. As Dooku is looking at the ceiling, Windu flings himself at Dooku, his bright purple lightsaber ignited, as it slashes past Dooku's face, forcing him to retreat south toward the exit door. But Mace flings his lightsaber at Dooku's back as it hits it, causing Dooku to fall to the floor, vulnerable.
Mace slides back, his lightsaber still ignited. "Stay down, Count," warns Windu, his lightsaber pointed at Dooku, who is still facing the exit.
"Lis-Listen, M-Mace," Dooku chatters, his voice shaky, his head now turned toward Mace. His face looks horrible after Mace slashed it: A large part of his beard and moustache severed, a large red scar traveled through his cheek to his remaining beard, and a large, thick graze from the lightsaber across his left eye down to the end of his head.
"C-Can't we just be friends?" inquires Dooku.
Mace looks down. "Sorry, Count," he says, "but this is called 'Versus.' We gotta satisfy the audience. Like when you threw your lightsaber at me and I surpassed it. That was satisfying the audience."
"You are incredibly biased," mutters Dooku angrily.
"But the point is," interrupts Windu, "I gotta KO you. That's what'll satisfy the readers and audience. They don't like cliffhangers like Force Awakens had. Even I hated that."
"And even I still need to DEFEAT YOU!" Dooku exclaims, lunging at Windu and landing right opposite of him, starting to slash and slash and slash at Mace with his now ignited lightsaber. Mace blocks all of the blows and kicks Dooku back as Dooku himself throws his lightsaber at Windu again, but Windu throws his at the same time as the lightsabers collide, filing back at their owners. Windu catches his, but Dooku is nicked by his as it cuts his arm, injuring the spot where it was hit.
Dooku looks at Windu and growls as he runs and slashes at Windu, who returns the blows, blocking, dodging, and slashing. He suddenly cuts Dooku's cape, making it fall to the floor as Windu removes his own robe and Force Pushes Dooku up onto the wall at its tallest point.
"Sorry, old friend," Windu taunts. He starts to Force Pull Dooku's limbs wider as Dooku drops his lightsaber, now un-ignited. His limbs are wider, and wider, and wider . . .
"BAH!" Dooku pulls together enough strength to send electrocution from the tips of his fingers towards Windu, who is severely electrified, but manages to keep Dooku up at the top of the wall.
"Ha ha ha!" Dooku feels power, he knows he will now win, it's just about over . . .
But then Windu musters to block it with his lightsaber and send it back at Dooku, whose eyes are full of fear before seeing nothing but Force Lightning . . .
Windu continues blocking and sending back until something blows seemingly in the distance . . . something big . . . something bomb-like.
Flames suddenly burst from the walls and ceilings and floors and everywhere as the place starts to explode. Mace lets go of blocking as Dooku stops electrocuting, falling to the floor, weak and powerless.
"W-W-What's happening h-here?" Dooku stutters, managing to lift his head up off of the floor.
Windu gags.
Just like Emperor Palpatine's (except not as many wrinkles), Dooku's face has turned thin, pasty-looking, puss-colored, and skull-like.
After Windu is done gagging, he explains, "I was hiding the thermal detonators when you were waiting for me. I managed to Force Jump out of the way when your lightsaber was thrown toward me." A hole in the ceiling suddenly opens. Windu says to Dooku, "Gotta go now. Tootles." He Force Jumps out of the opening and, once on the solid upper platform of the droid factory, Force Jumps again into the cockpit of a large Republic ship that is hovering, and flies off to let the factory explode.
THE END
. . . ?
As Windu is flying the ship, he notices something about five minutes after leaving the droid factory: a speeder with a figure on it. Windu uses the Magnifying Mover on the ship to see that it's Count Dooku, capeless and injured, on the speeder, attempting a getaway from Geonosis. However, Windu shoots the speeder down as Dooku himself falls onto the rocky surface.
KO
"Ha ha ha! Nice one, Mace!" Windu compliments himself as he flies back to the Jedi Council.
JOIN US NEXT TIME FOR EPISODE THREE:
BATTLE OF THE GENDERS
Well, that's all for this quick May the 4th episode! I hope you enjoyed it, and be sure to comment below on what your favorite movie and characters is/are! I hope I'll be back again soon with episode three of VS. Happy Star Wars Day, and, as always, may the Force be with you!
Whiz Kid out