That's right! It's that time again. It's May the 4th, 2021, which means that it's . . . Star Wars Day! And I'm not going to quit my tradition of writing an annual Star Wars Day post. After all, it is my favorite franchise. Even more so than the Marvel Cinematic Universe. Maybe that's controversial, but I don't care!
Like last year, I decided not to rank anything. I don't have much Star Wars content to rank anyway. Besides the three trilogies . . . and the villains . . . and the season two episodes of The Mandalorian. Hmm. Maybe later in the month.
So, instead, I'm going to post more episodes of VERSUS, which pits two Star Wars characters against each other and writes out what would hypothetically happen. Last year, Luke Skywalker went up against Kylo Ren and won, while Mace Windu beat out Count Dooku. You can read those battles here:
This time, I'll post three episodes of VERSUS. But, before I get to that, I want to mention some of the things that are happening in a galaxy far, far away on Disney+. Today, a special seventy-minute premiere of the animated series The Bad Batch created by Dave Filoni, who, as I've mentioned before, I think has conspired with James Cameron, Gareth Edwards, Simon Pegg, and others to destroy Star Wars as we know it! Here's my updated essay on it:
https://docs.google.com/document/d/1XpoVTRSZuq7kHQpgpsudak3083USHIt_iVuhn0UtM_8/edit
Anyway, as I was saying, The Bad Batch debuted on Disney+ today, and the second episode will release on Friday. There will be sixteen total episodes. Also on the streaming service is Star Wars: Biomes and Star Wars: Vehicle Flythroughs, which very quickly tour the galaxy with you at the helm . . . or at least that's what it makes you believe. Finally, all of the Star Wars films and some of the TV shows have art drawn and painted by fans. It looks fantastic!
With all that aside, I want to quickly mention the cast and crew of the Star Wars films/live-action TV shows. (Spoilers included.)
Directors
J. J. Abrams (Star Wars: The Force Awakens & Star Wars: The Rise of Skywalker)
Deborah Chow (The Mandalorian)
Bryce Dallas Howard (The Mandalorian)
Gareth Edwards (Rogue One: A Star Wars Story)
Rick Famuyiwa (The Mandalorian)
Jon Favreau (The Mandalorian)
Dave Filoni (The Mandalorian)
Ron Howard (Solo: A Star Wars Story)
Rian Johnson (Star Wars: The Last Jedi)
Irvin Kershner (Star Wars: The Empire Strikes Back)
George Lucas (The Prequel Trilogy & Star Wars: A New Hope)
Richard Marquand (Star Wars: Return of the Jedi)
Peyton Reed (The Mandalorian)
Robert Rodriguez (The Mandalorian)
Taika Waititi (The Mandalorian)
Carl Weathers (The Mandalorian)
Writers
J. J. Abrams (Star Wars: The Force Awakens & Star Wars: The Rise of Skywalker)
Michael Arndt (Star Wars: The Force Awakens)
Leigh Brackett (Star Wars: The Empire Strikes Back)
Rick Famuyiwa (The Mandalorian)
Jon Favreau (The Mandalorian)
Dave Filoni (The Mandalorian)
Tony Gilroy (Rogue One: A Star Wars Story)
Jonathan Hales (Star Wars: Episode II — Attack of the Clones)
Rian Johnson (Star Wars: The Last Jedi)
Jonathan Kasdan (Solo: A Star Wars Story)
Lawrence Kasdan (Star Wars: Return of the Jedi, Star Wars: The Force Awakens, and Solo: A Star Wars Story)
George Lucas (The Prequel Trilogy, Star Wars: A New Hope, and Star Wars: Return of the Jedi)
Chris Terrio (Star Wars: The Rise of Skywalker)
Chris Weitz (Rogue One: A Star Wars Story)
Christopher Yost (The Mandalorian)
Cast
Riz Ahmed as Bodhi Rook
Kenny Baker as R2-D2
Ahmed Best as Jar Jar Binks
John Boyega as Finn
Gina Carano as Cara Dune
Hayden Christensen as Anakin Skywalker/Darth Vader
Emilia Clarke as Qi'ra
Peter Cushing as Grand Moff Wilhuff Tarkin
Anthony Daniels as C-3PO
Adam Driver as Ben Solo/Kylo Ren
James Earl Jones as The Voice of Darth Vader
Alden Ehrenreich as Han Solo
Carrie Fisher as Leia Organa
Harrison Ford as Han Solo
Mark Hamill as Luke Skywalker
Domhnall Gleeson as General Armitage Hux
Donald Glover as Lando Calrissian
Woody Harrelson as Tobias Beckett
Oscar Isaac as Poe Dameron
Samuel L. Jackson as Mace Windu
Felicity Jones as Jyn Erso
Christopher Lee as Count Dooku
Diego Luna as Captain Cassian Andor
Kelly Marie Tran as Rose Tico
Peter Mayhew as Chewbacca
Ian McDiarmid as Emperor Sheev Palpatine/Darth Sidious
Ewan McGregor as Obi-Wan Kenobi
Ben Mendelsohn as Director Orson Krennic
Temuera Morrison as Jango Fett/Boba Fett
Liam Neeson as Qui-Gon Jiin
Nick Nolte as Kuiil
Frank Oz as Yoda
Pedro Pascal as Din Djarin/The Mandalorian
Natalie Portman as Padmé Amidala
David Prowse as Darth Vader
Daisy Ridley as Rey
Joonas Suotamo as Chewbacca
Alan Tudyk as K-2SO
Jimmy Vee as R2-D2
Taika Waititi as IG-11
Carl Weathers as Greef Karga
Jiang Wen as Baze Malbus
Ming-Na Wen as Fennec Shand
Forest Whitaker as Saw Gerrera
Billy Dee Williams as Lando Calrissian
Donnie Yen as Chirrut Imwė
Whew! Quite a big cast there. And that's not even all of it!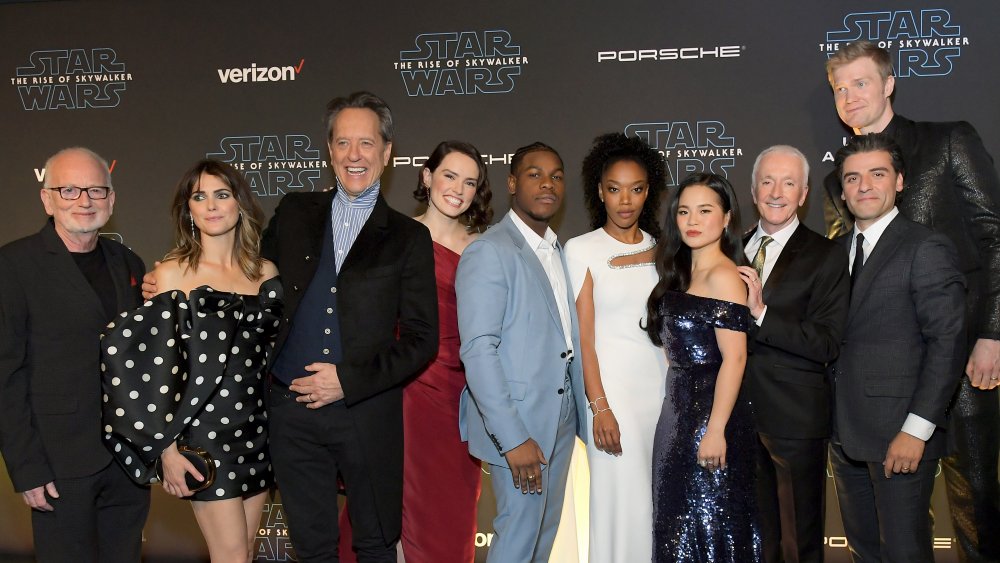 So now, let's get to VERSUS!
VS.
Episode III:
Battle of the Genders
A regular day on Corellia, General Leia Organa prepares orders for Rey, Finn, Poe Dameron, Rose Tico, Chewbacca, and Lieutenant Connix. The Resistance fled to Corellia after Kylo Ren, General Hux, and the First Order ambushed Crait. Leia thought it would be fitting, since it was Han Solo's birth planet.
As Leia is writing down her thoughts on Connix protesting for Porg rights, she realizes how much she misses her husband. After Ben Solo (Kylo Ren), Han and Leia's son, impaled Han with his crossguard lightsaber and left him for dead on Starkiller Base, Leia felt that Ben, even though he killed Han, still had good in him. She knew that he had destroyed her brother Luke's Jedi Temple and that he ordered First Order stormtroopers all around the galaxy to hunt down the Resistance at all costs, but she also knew that there was something more to Ben than just destruction. She felt that it wasn't Ben's choice to become one of the leaders of the First Order. Another important point she knew about Ben's turn was that Snoke had manipulated him. But now Ben had killed Snoke; was Ben planning this all along? It had fulfilled his journey to the Dark Side, but what if he didn't intend to fall to the Dark Side? By now, Ben couldn't just turn away from the First Order and declare that he was on the Resistance's side; General Hux and the entire First Order army would easily defeat him. She still knew that there was some good left in her son.
Leia hands her orders to Connix and decides to see what's new in Corellia. She finds damaged scraps of Han's old speeder when he was in Tobias Beckett's gang and uses them to repair her speeder. She cruises down the streets before finding that news of a strange person luring around the streets has been spotted on street L3-37. She finds the street, grabs her blaster, and jumps out of the speeder.
The street looks abandoned; nobody is there, and the sidewalk is rotting. Leia looks around but finds nothing. She hops back in the speeder and speeds along the streets, looking for anything.
Then it comes.
Leia sees the shadow of a figure and hits him, then stopping the speeder.
She runs out of the speeder and grabs the injured person.
Han Solo.
"Han!" Leia exclaims, surprised.
"Leia?" Han asks groggily. Leia hugs him, and Han smiles.
"I thought you died on Starkiller Base! What happened?" Leia asks.
Han explains, "So Ben impaled me; you got that, right? I was still barely alive, though, and when I fell to my 'death', I managed to hold on to part of the wall and climb my way up."
However, Leia quickly becomes stern. "Why didn't you help us? Ben led an attack on us; we lost Ackbar, Holdo, and most of the entire Resistance."
"Okay, who's alive?"
"Rey, Finn, Poe, Connix, D'Acy, this gal named Rose, 3PO, R2, BB-8, Chewie, and a few others."
"What about Luke?" Han asks. "I heard rumors that Rey, Chewie, and R2 found him."
Leia looks distraught. During Ben's attack on Crait, Luke sacrificed himself by sending a Force Projection of himself across the galaxy to distract Ben so that Leia and the others could escape. Leia and Rey could feel him die on Ahch-To moments later through the Force.
"Oh," Han mumbles. He knows what Leia's look means. "What else is new?"
Leia updates him, "Rey temporarily trained with Luke and thinks she's a Jedi now. Finn and Rose went on a mission to infiltrate the First Order. Poe apparently thinks he's hot stuff and led a mutiny against Holdo, but Holdo sacrificed herself to ram her ship into the First Order's Star Destroyer. It's basically a kamikaze. Also, Finn defeated this not-so-bright stormtrooper named Phasma, and Ben killed Snoke and is now Supreme Leader of the First Order."
Han's expression remains blank. He sighs for a moment, then says to Leia, "Where's the Falcon?"
"The Falcon? Parked by your old friend Qi'ra's mansion. Who is Qi'ra, anyway? Don't tell me you had a love interest before me, because that's about as bad as cheating on your wife!"
Han isn't moved by this. He demands, "I need the keys."
"Why?" asks Leia, a bit unfondly.
"Leia, come with me. Abandon the Resistance; we can make a life together, ignoring Ben, ignoring Rey, ignoring all of this. What do ya say?"
Leia is shocked. "Han, we need you. Probably now more than ever. Listen to me! Ben is Supreme Leader now, so he can basically do anything."
Han's expression becomes exasperated. "Give me the keys."
There's a long pause. Han approaches Leia, now more menacing.
Leia pulls her blaster and starts shooting.
FIGHT!
Han dives behind a piece of junk and unlocks his blaster. Leia keeps shooting but doesn't hit Han. Han shoots at Leia, but misses. Leia lunges forward, tackling Han. However, Han pushes her over and takes her blaster.
"Leia, it's your turn to give up now!"
Han's surprise isn't over yet; Leia punches him in the face and grabs her blaster back, shooting Han in the gut, which forces him back. Han manages to get back up and shoots back at Leia, hitting her shoulder. However, Leia suddenly uses the Force to lift Han in the air and . . .
INTERMISSION
Leia is in the Millennium Falcon, flying over Corellia and scanning the area for any sign of Han. She had used the Force on him and flung him far into the distance.
She can't see anything, until . . .
Leia hears a sound in the Falcon and runs out of the cockpit to find that Han has bombarded the ship.
Han's jacket is covered in scratches and burns. "You wanna know where I went?" he asks. "I went to the worst place in all of Corellia: the Corellian hound nest. Those goshdang Corellian hounds are not friendly."
Leia pulls her blaster out and aims it on Han. Han confronts her. "Leia, I know you still care for me. I know when you shot me, you put the blaster on blast, not kill . . . purposely. Join me, and together we can forget the Resistance and the First Order."
Leia doesn't give a dang. "Han, I've worked so hard on the Resistance; you've worked so hard on the Resistance. It's a shame to give it up. So, I'm going to have to take you in." She pulls the trigger on her blaster and tries to blast Han.
Han dodges it and shoots three blasts, two of which hit Leia in the side and arm. He then runs toward Leia and grabs her blaster, but she uses the Force to regain her blaster and shoot Han's blaster away. She also uses the Force to lift Han into the air and twist his arms.
"Literally, Leia! Don't break my biceps!" Han yells.
Han yells in agony as Leia continues to twist his arms, and then throws him out of the Falcon and into a mountain cliff.
THE END
. . . ?
Leia is flying the Falcon in space, but Han suddenly appears in an old TIE Fighter and shoots at her. He damages the back of the Falcon, but Leia manages to shoot Han's TIE Fighter as it soars downward. However, Han manages to steer the TIE Fighter toward the Millennium Falcon and crash into it, damaging the TIE Fighter, himself, Leia, and the Falcon.
KO
Results: Leia injured and blasted Han more times, throwing him to his seeming death into a mountain. However, Han survived and stole a TIE Fighter, choosing a kamikaze and smashing himself into the entire Falcon, knocking out Leia, but also himself. The off-page results are that Han technically won, throwing Leia into space and sacrificing himself. If Han isn't able to compete in his next challenge, we will find a substitute for him.
Post-Credits Scene: A hand flickers in space; a life form is sensed.
There's Episode Three. And now for Episode Four!
VS.
EPISODE 4:
MASTER VERSUS MASTER
A hooded figure enters the Galactic Senate location. However, he is stopped by two Royal Guards.
"You are not allowed to enter!"
"I am allowed to enter."
"You are allowed to enter."
The figure casts a Jedi Mind Trick on the Royal Guards, but is once again stopped by two others, who point their spears at him.
"Don't move! Who are you?"
The figure takes his hood off to reveal a bearded but not elderly face with dirty-blonde hair.
"My name is Obi-Wan Kenobi, but you can call me 'Master Kenobi'. How does that sound?"
"You arrogant Jedi scum! You'll pay for your crimes!"
The Royal Guards raise their spears and prepare to strike, but Kenobi flings one out of the Senate, and Force Pushes the other one onto the wall, pinning him. However, the Royal Guard manages to press his com and alert all the other guards.
"All guards, report to Section A1! Repeat, come to Section A1!"
Kenobi Force Pushes the guard through the entire wall and prepares for the other guards. Over fifteen guards appear in Kenobi's view. Kenobi Force Pushes all the guards until one strikes him in the stomach, injuring him.
"AAAAH!" Kenobi yells out in agony, then Force twists the guards's legs and throws him/her out, finishing off the guards.
Kenobi then enters the person's office he was waiting for.
"Chancellor Palpatine."
The figure in the chair swivels around to reveal a hooded, robed person with yellow eyes and pasty wrinkles underneath the hood.
"Master Kenobi. Your arrogance blinds you."
"Literally?" replies Kenobi. "You're just copying your lines from your battle with Yoda!"
"Whatever!" yells Palpatine, becoming exasperated. He raises the tips of his fingers and shoots out Force Lightning, hitting Kenobi and smashing him into the wall.
Obi-Wan falls to the floor, injured. Palpatine motions his assistant Mas Amedda out of the room and rises from his desk, proceeding to Kenobi while laughing.
"I have waited a long time for this, my little green friend!" He taunts, continuing his laughing.
"Okay, now you're totally copying your lines from your last fight! Have you been drinking some Bud Lightyear, Palpatine?"
Palpatine's face becomes mad. He suddenly yells out, "I believe my name is the EMPEROR!" He shoots Force Lightning at Obi-Wan again, smashing him onto the opposite side of the room.
Obi-Wan is smoking and moaning on the floor as the Emperor starts toward him. "Now, you will experience the full power of the Dark SIDE!" Sidious yells as he raises his fingers once again, only to be interrupted by Kenobi.
"Look, it's Richard Nixon!"
Darth Sidious (another one of Palpatine's alter egos), distracted, turns toward the door. "Twin brother? Is it you?" Obi-Wan Force raises Sidious and throws him into the wall and then flings him out of the window and his office.
Kenobi gets up and compliments himself. "No offense, Palpatine, but I think I just Obi-ed your Wan! Get it? No? Whatever."
However, the Emperor jumps back into his office and attempts to electrocute Obi-Wan, only for it to be blocked by Obi-Wan's newly ignited lightsaber.
"Stand down, Palpatine," warns Obi-Wan, his lightsaber pointed at the Sith Lord. "It's over."
"Oh, is it?" grills Sidious. He Force grabs his lightsaber and ignites it. Kenobi's is blue and Sidious' is red.
There's a pause, then . . .
FIGHT!
Sidious lunges at Kenobi, slashing two times, which is blocked, then returned by Kenobi. Sidious aims for Kenobi's legs, but Kenobi blocks it and punches Sidious in the face. Sidious, angry, shoots Force Lightning at Kenobi, hitting him and smashing him into the wall. Kenobi attempts to get up, but is electrocuted by Sidious+ yet again.
"Now, Master Kenobi, goodbye." Sidious throws his lightsaber at the wall that Kenobi is leaning on, which falls on Obi-Wan.
INTERMISSION
News: Obi-Wan has reportedly survived the crash and not been KO-ed. Let's go take a look!
As Sidious is creating the pay-the-bills-every-day rule for the citizens of Coruscant, Kenobi Force lifts the wall off of him and throws it at Palpatine, injuring him.
"AAAGH!" Sidious yells out in anger and ignites his red lightsaber again.
Kenobi ignites his and lunges at Sidious, slashing at him. Sidious blocks these and Force Jumps over Obi-Wan and returns the blows, but Obi-Wan Force Pushes Sidious onto a Senate pod.
The pod rises into the center of the Senate chamber, where many other pods have been abandoned in a hollow space. Obi-Wan quickly jumps onto the pod to continue fighting Sidious.
Obi-Wan Force Jumps and kicks Sidious off of the pod. Sidious lands on another pod and drops his lightsaber. Obi-Wan twirls his lightsaber in preparation for what's coming next; Sidious smiles, knowing what he's about to do will KO Obi-Wan.
Sidious Force Lifts many Senate pods and throws them all at Obi-Wan, who slashes them apart until one knocks him off the pod. As he's falling, Kenobi quickly takes off his robe and leaves it on one of the pods to make it appear as if he had disappeared and been KO-ed.
FAKE KO
Obi-Wan lands on a pod and Force Jumps onto a farback pod, waiting for Sidious to realize that he is "dead."
About five minutes later, Palpatine discovers Obi-Wan's robe and activates his com to Mas Amedda: "Inform the others that Obi-Wan Kenobi is officially . . . KO-ed."
Obi-Wan then suddenly flings a pod at Sidious, which hits him hard and knocks him onto the Senate floor. Palpatine recovers and blasts Force Lightning at Obi-Wan, which he dodges. Obi-Wan jumps onto another pod and twirls many more at Sidious, trapping him with pods.
Obi-Wan, injured but calm, looks down at the pods covering Sidious; the Sith Master can't even be seen. Obi-Wan unignites his lightsaber. The battle must be over . . . it must.
But then Force Lighting suddenly blasts out of the pods and hits Obi-Wan's face. Sidious hurls Obi-Wan onto the wall as he falls onto the floor.
Sidious, who has now Force lifted all the pods off of himself, laughs at Obi-Wan, crippling at his feet. Sidious then Force grabs his lightsaber, ignites it, and raises it, preparing to strike . . .
However, Obi-Wan pulls together enough strength to ignite his lightsaber and block the blow, facing Sidious.
Sidious gags.
Obi-Wan's face has turned like Sidious' due to the Force Lightning: Puss-colored, pasty, skull-like, wrinkly, and wicked.
Obi-Wan uses this advantage to Force Push Sidious up to the Senate's highest pod, then flings the pod down at the floor, crashing Sidious into the floor.
Obi-Wan walks toward the pod and Force lifts it to reveal Sidious.
Sidious's hood is removed, revealing a worse version of Obi-Wan's new face: Wicked, evil, villainous, and frightening.
"It's over, Sidious," warns Obi-Wan, pointing his lightsaber at Palpatine again.
Palpatine's face becomes angry and fearsome. "No, no, no, no, no, no! YOU WILL DIE!" Sidious blasts Force Lightning from his fingers at Obi-Wan, electrocuting him severely. However, Obi-Wan manages to block the rest with his lightsaber, sending it back at Sidious's face.
A few seconds later, Palpatine stops electrocuting, and his face is . . . normal.
"What?!" exclaims Obi-Wan.
Palpatine's regular face is back, looking better than ever.
"Perfect!" grins Palpatine, his teeth not yellow like usual.
To use Kenobi's confusion as an advantage, Palpatine grabs his lightsaber and slashes Obi-Wan's entire upper torso and blasts him with Force Lightning again into the wall.
Mas Amedda enters. "My lord, your ship is ready."
"Perfect!" smiles Palpatine again.
As Palpatine and Amedda leave, Palpatine activates a button which destroys the Senate Chamber, most likely KO-ing Obi-Wan.
However, while in the starship, Amedda points out a small ship in front of them.
Kenobi's starfighter.
Obi-Wan is piloting his starfighter, attempting to recruit Yoda to help with the situation.
"Leave it to me," orders Palpatine. He takes control of the gunning cannons and blasts down Obi-Wan. Kenobi ship falls onto one of Coruscant's many buildings' roofs, managing to survive. He eyes Sidious in the ship and throws his lightsaber at it.
Kenobi's lightsaber hits the ship, and it crashes onto another building's roof, straight across from Kenobi. The explosion kills Amedda and leaves Palpatine fatally wounded.
"Give up, Palpatine!" warns Obi-Wan to Palpatine, confident that he will win.
Palpatine sneers, then Force Jumps onto Kenobi's building and chokes him, holding him by the throat in the air.
"Never. Come. Near. Me. Again." And with that, Sidious ignites his lightsaber, slashes at Obi-Wan, and tosses him off the building.
KO
Results: It was a pretty decent and equal battle overall.  Sidious had the upper hand most of the fight, but Obi-Wan had a powerup and fatally wounded him, only before Sidious slashed his torso and then confronted him a final time on two of Coruscant's largest buildings.  In the end, Sidious wounded Obi-Wan by slashing him again with his lightsaber, then tossing him off the building.  Since the slash wasn't an impaling, Kenobi may have survived, but he didn't have enough strength to save himself from falling.
Finally, here's episode five!
VS.
EPISODE 5:
HORNS VERSUS HELMET
A long, flowing, black cape attached to a dark person enters the Theed palace hangar with white stormtroopers behind him. Starships are all around the hangar; the person in the flowing cape remembers when he was in the hangar over thirty years ago and stole one of the starships as a boy.
An extremely large door slides open to reveal another person cloaked in dark black. He pulls back his hood to reveal a red face with black lines scattered in straight lines throughout his face.
Darth Vader looks at the Dathomirian. He remembers when Qui-Gon Jinn fought this Sith Lord warrior many years ago. Jinn means nothing to Vader now.
The stormtroopers raise their blasters to fire, but Vader waves them away. The stormtroopers run off, leaving Vader and Darth Maul alone.
There's a pause. Then Vader speaks first.
"You've grown old and weak, Maul."
Maul is not moved by this. "Anakin Skywalker. When I first saw you, I knew you were trouble."
Vader strikes back. "The Sith are extinct. The Galactic Empire has taken its place. You are the last Sith, and for that reason . . . you must die."
Maul takes off his robe and quickly Force raises Vader, smashing him into the wall across the entire hangar.
Vader gets up, angry through his mask. He Force Chokes Maul and blasts him into his side of the wall.
FIGHT!
Maul, motivated, runs forward, leaps at Vader, and all at the same time ignites his lightsaber, which has a handle larger than Vader's.
Slo-mo rewind!
Maul runs forward at Vader, suddenly takes a giant Force Jump, and ignites his lightsaber and strikes it at Vader, but it is blocked as Vader quickly ignites his, too.
Maul is surprised at Vader's quick block. However, he slashes many times at Vader, which are all blocked.
Maul, angry, sneers at Vader and raises his blade to strike, but Vader grazes Maul's torso and Force Pushes him backwards and to the other half of the hangar.
Vader twirls his lightsaber and Force Jumps at Maul, slashing and striking, which are all met by Maul's blade. Maul then Force Pushes Vader away. Vader throws his lightsaber at Maul, who throws his lightsaber to meet it.
The two sabers touch and file back to their owners. Vader leaps in front of Maul and starts blocking, slashing, and blocking again. Maul kicks Vader with his boot and forces him into the next room, which is a catwalk full of crystals contained in large booths.
The two battle it out on the first platform, but Vader manages to Force Push Maul onto the catwalk and pin him onto the booth. Vader then hurls a chunk of the platform at him with the Force, breaking open the booth and revealing anti-gravity crystals.
Maul hangs onto the remains of the booth as the crystals suck him up. In a last attempt, he throws his lightsaber at Vader, which hits him and knocks him off the platform and down into a seemingly never-ending reactor shaft.
DOUBLE KO
INTERMISSION
Reported News: The seeming results for now are that both Vader and Maul have been KO-ed. The judges cannot quite deduce who really won, since Vader forced Maul into the anti-gravity crystal booth and Maul slashed Vader, knocking him off the platform and into the reactor shaft as a final salute. It is currently a tie, but if there is any more news, we will be sure to update.
Breaking News: Our reporters have seen a figure cloaked in black wandering the catwalks; we believe the figure to be Darth Maul, as we don't think we saw a mask on the figure. Let's go take a look!
Maul wanders the platform, waiting for any strike of action. He knows that there must be an announcement that he won: there's no subtle sign of Vader at all.
Sighing, Maul walks across the platform and past the deactivated forcefields into the final chamber. He has to wait a few times as the forcefields go on and off. When he gets to the actual chamber, there is no sign of Vader there, either. All he can see is the giant hole that leads down to the reactor shaft.
"Wait a minute," mutters Maul, suddenly hearing something.
Vader leaps from the giant hole with his lightsaber ignited and slashes at Maul.
"AAAAGH!" screams Maul, his torso slashed but not fully cut.
He suddenly ignites his lightsaber, but also presses another button, which activates another lightsaber. A double-bladed lightsaber.
Vader is surprised by this, and starts slashing at Maul.
Maul blocks them all and creates a slash of his own, aiming at Vader's mask, but the blade instead hits his chestplate.
Vader retreats. "Aaagh!" he yells in agony; his chestplate is the main thing that keeps him from being unable to breath.
Maul twirls his saberstaff and impales Vader with it, much like he impaled Qui-Gon Jinn many years ago.
KO
Results: Darth Maul overcame Vader through most of the fight.  However, it was actually a pretty close fight when you look at it.  Vader didn't make very many injuries, but when he did, they were awful.  He slashed Maul's torso twice and "temporarily KO-ed" him by forcing him into the crystal booth.  However, Maul escaped and gained the upper hand, slashing Vader's chestplate and then impaling him.  If there are any updates on the fight, VS. will let you know!
Join us next time for Episode Five, Small vs. Big.
So, there you have it. There wasn't much to this post, but I wanted to do a Star Wars-themed article. Be sure to let me know what I should rank in my next post. And, of course, may the Force (or rather the fourth) be with you!
Whiz Kid out