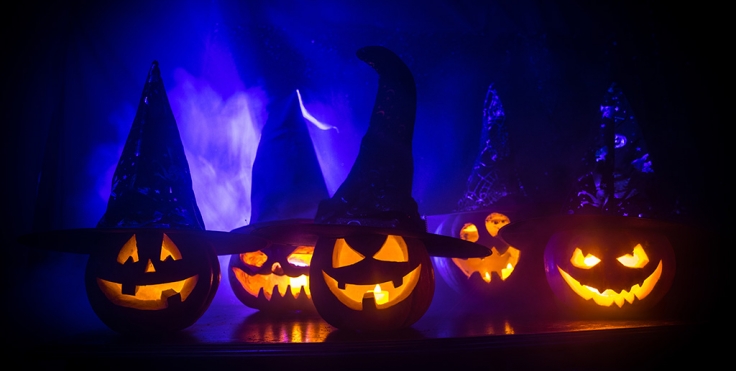 That's right, Whiz Kid has returned for his sixth post of the year! And hopefully it won't be the final one . . . unless I get distracted again. Although it's been almost half a year since I've written a post, I've been planning to publish a Halloween-themed story for this All Hallow's Eve. Although when I came up with my first Halloween chapter I intended it to be yearly, I certainly haven't made that a tradition! I've penned, or rather "keyboarded" (I'm breaking from America's choice to use the word "typing"!), five episodic stories, one each in 2016 and 2017, and three in 2019. However, even though I wasn't very busy last year (thanks to COVID-19!), I didn't write one in 2020! But, this year, I will . . . and you'll be able to read it in just a moment!
If you want to refresh your memory, you can go to page two of this website and read the three Halloween stories from 2019. Unfortunately, the '16 and '17 posts aren't on here, since those lived on my old Planet Whiz Kid site which had its server shut down in early 2019. Worry not, though! I will recap those posts for you in a minute's time.
First, however, I would like to mention that there is quite a bit of Halloween content available this year, from new releases to classic hits streaming on a wide variety of platforms. Some fresh entertainment has dropped this year, so let's take a look!
LEGO Star Wars: Terrifying Tales (A Disney+ Original Special) humorously tells the story of Poe Dameron and his sidekick BB-8's encounters on Mustafar with multiple fishy residents who recall stories of past Star Wars villains.
Gonzo and Pepé must survive the night in Muppets Haunted Mansion (A Disney+ Original Special), a spooky manor where they encounter old Muppet friends dedicated to scaring them out of their senses. Featuring special guests Will Arnett, Darren Criss, Taraji P. Henson, Yvette Nicole Brown, John Stamos, the late Ed Asner, and many others!
Gomez, Morticia, Wednesday, Pugsley, and the rest of the Addams family hit the road in The Addams Family 2 (an MGM film) to explore the rest of the United States, characteristically spooking citizens and causing destruction along the way. Starring Oscar Isaac, Charlize Theron, Chlöe Grace Moretz, Javon "Wanna" Walton, Wallace Shawn, with Snoop Dogg as Itt, with Bette Midler, and Bill Hader. See it in theaters or rent at home.
A new opportunity for Chucky (A SyFy Series) arrises when the evil doll is adopted by a bullied middle-school child who is forced by the serial killer to make choices that may either improve, ruin, or end his life. Streaming on fuboTV, Hulu + Live TV, or YouTube TV.
After escaping a fire trap, Michael Myers returns, unexplainably evil and out for blood in Halloween Kills (a Universal film) as Laurie Strode, her daughter Karen, granddaughter Allison, and other Haddonfield survivors form a mob to hunt the madman serial killer. Starring Jamie Lee Curtis, Judy Greer, Andi Matichak, Will Patton, Thomas Mann, Kyle Reynolds, and Anthony Michael Hall. Available in theaters and on Peacock for paid tiers. Rated R.
Of course, that's just SOME of the content streaming this year. Much more is available on these platforms:
Netflix – Netflix & Chills (Originals Into the Night: Season 2, Squid Game: Season 1, There's Someone Inside Your House, You: Season 3, Nobody Sleeps in the Woods Tonight Part 2)
Disney+ – Hallowstream (Original Under Wraps, Original Just Beyond, Hocus Pocus, The Nightmare Before Christmas, Frankenweenie, Spooky Buddies, The Haunted Mansion, Halloweentown, Secrets of Sulphur Springs)
Amazon Prime – Now Streaming (Invasion of the Body Snatchers, Jigsaw, Original Evil Eye, Original I Know What You Did Last Summer)
Hulu – Huluween (Buffy the Vampire Slayer, Black Swan, American Horror Story, American Horror Stories, Fear the Walking Dead, Mother!, 2019 Child's Play, Original False Positive, Original Run, Original Only Murders in the Building)
Peacock – Peacocktober (Several Movies from the Chucky, Saw, Nightmare on Elm Street, Friday the 13th, Texas Chainsaw, Predator, Harry Potter, and Universal Monsters Franchises, The Mask, Gremlins, Gremlins 2: The New Batch, All-New Exclusive Film Halloween Kills, Original The Girl in the Woods, Original Snoop & Martha's Very Tasty Halloween
Paramount+ – Peak Screaming (Annabelle, Friday the 13th, 1984 A Nightmare on Elm Street, Clue, Sabrina the Teenage Witch, 2010 A Nightmare on Elm Street, It, A Quiet Place, 2019 Child's Play, The Twilight Zone, Original The Twilight Zone, 2019 The Addams Family, Ghosts, Exclusive A Quiet Place: Part II, Exclusive Paranormal Activity: Next of Kin)
HBO Max & Cartoon Network – Scoobtober (All Scooby Doo content)
In addition to AMC's Fearfest, there's tons of entertainment value on Freeform's 31 Nights of Halloween!
Hocus Pocus
The Nightmare Before Christmas
Ghostbusters (1984)
Ghostbusters II
Corpse Bride
Casper
The Addams Family (1991)
Addams Family Values
Maleficent
Maleficent: Mistress of Evil
Alien
Aliens
Hotel Transylvania 2
Hotel Transylvania 3: Summer Vacation
Halloweentown
Ghostbusters (2016)
So, there's some of the content available for you to stream (or rather "scream" – I copied that from Amazon Prime and Paramount+) on Halloween this year. None of these services are a sponsor.
So, with that being said, let's move onto the Halloween story!
Since they're not available to read on this website, here's a recap of the first two chapters I wrote of my Halloween story. I'll just plagiarize the recap I wrote about them in 2019:
In the 2016 post, it's about how Lord Dreadful, the King of the Monsters, is very cruel to his subordinates. He disintegrates Frankenstein, Witch Miriam, and The Werewolf Man, but Count Dracula stands up to him and battles him away from the remaining monsters, forcing him to go into hiding and never come near Monster Manor (the manor in which the monsters live) again.
In the 2017 post, it ramps things up a little bit. Dracula has now taken over Lord Dreadful's position as King of the Monsters, and is even worse than Dreadful was. He has formed a strong rivalry with the Invisible Man, and has hired Pennywise the Dancing Clown to kidnap many children. When Pennywise doesn't have as many children as Dracula requested, he attempts to destroy Pennywise, but the clown escapes. When nobody helps Dracula, he tries to flee, but Wizard Marius hits him with a spell, and a fight ensues, one in which Dracula gravely injures Marius. Drac disintegrates Jack O'Lantern and turns Marius into a dragon, although costing Drac a scar across his face and the destruction of Monster Manor. As Drac flies away, the Invisible Man, with help from Skeleton (who are the only two monsters remaining besides Drac and Marius), manages to fly up onto Marius the Dragon. Drac destroys Skeleton and easily defeats the Invisible Man, seeing where he is due to his glasses. Invisible takes the glasses off and continues fighting Dracula, eventually knocking him off Marius the Dragon. However, since Dracula can fly, he captures Invisible once and for all, riding to his destination on Marius the Dragon. In a post-credits scene, Dracula is in a room of gold, with Frankenstein in a cage. He kneels to someone and says that "It is done, my master."
In a nutshell (or, as I've incorrectly remarked before, "in a nugget"), the synopsis of the three 2019 posts includes Dracula working for an unknown monster referred to as "Master" who is eventually revealed to be Chucky the Doll. Slappy the Dummy (from the Goosebumps books and movies) teams up with Michael Myers to bring dozens of horror movie villains to present-day New York City. They eventually succeed, but the "good monsters", including The Invisible Man, Wizard Marius, Witch Miriam, The Werewolf Man, and Jack O'Lantern, escape from their cages and introduce all of the "heroes" from horror movies to 2019 New York City. A fight breaks out between everyone (with the Addams family caught in it, as well) which ends in Dracula freezing Pennywise, Jack Skellington breaking Master Chucky, the Sanderson Sisters killing Jack before they, too, are turned to stone in a graveyard, Dracula cursing Slappy the Dummy so that he's only a regular puppet, Dracula being fatally injured, and, finally, all of the horror movie villains being defeated. After the battle is done, the Invisible Man gives Dracula a ticket to Hotel Transylvania, and Chucky turns back into his regular form of Beetlejuice when nobody is looking.
So, there it is! If you want more details on the 2019 posts, here are the links:
https://planetwhizkid.com/2019/10/halloween/
https://planetwhizkid.com/2019/11/halloween-part-2/
https://planetwhizkid.com/2019/11/halloween-part-3/
With all of that put to the side, let's get to the main part of this post . . . Halloween: Part 4!
Computer, keyboard, action!
Halloween Town, September 6, 2021
"Why, Matt, why did it have to turn out this way? I mean, C'MON, MAN!"
There sat the deranged ghost Beetlejuice, across a table from his good friend Matthew, more commonly referred to as "the Mummy". They were sharing a cup of coffee at a café – the place that you'd least expect to find two blood-curdling creatures. However, this diner was more specifically Creepster Café in Halloween Town – oddly, the place that you WOULD expect to locate two macabre monsters.
Matthew responded, "Look, pal, I understand what you're going through, but . . . it's been two years already! Can't you move on, Beety Boy?"
Beetlejuice smiled. When the bizarrely humanized yet completely alien specimen grinned, it was impossible to tell if he was beaming out of love or out of hate. He was truly an enigma.
"In my response, Matt, there's good news and bad news about that sentence. The good news: you used my high school nickname 'Beety Boy', and I'm ETERNALLY grateful for that, man! You're the best, buddy!"
Matt was surprised. "Oh, well, thanks!"
"I'm not finished." Beetlejuice smiled again. This time, Matt could tell that it was communicated bad news. "What you said to me, y'know, about all that bogus regardin' 2019's Halloween . . . that's a load of bull. You're a load of bull! Despite your obvious disregard for my quality of life, I'm not movin' on! In fact, I'm forming a new plan for this year. This strategy incorporates characteristics of my previous plan . . . "
"You mean your failed plan?"
"I SAID MY PLAN!!!" Beetlejuice lunged from his seat and onto the table separating the two old friends. He grabbed his chair, banged it on Matt's meal (uncooked fish with a side of turkey brain) several times, and threw it at the front window. The chair smashed through the glass window, flying all the way to the other street. Other guests at the diner looked at the window. Unlike normal folk, they didn't gasp. They merely shrugged it off. This was normal in Halloween Town. The manager of the café, however, quickly became angry. He was shaped exactly like a pencil, but with massively sized arms and legs that would make even Hulk Hogan quiver. He stomped over to where Beetlejuice and the Mummy were seated.
"HEY! Juice-Man!"
Beetlejuice rolled his eyes. Meaning that he grabbed his eyeballs, took them out of their sockets, and rolled them across the floor. The manager tripped on them and they went flying back toward Beetlejuice, who caught and reattached them.
The manager looked up and turned sheet white. Normally, someone would turn red when they're mad. But not the manager. Things worked different in Halloween Town.
"Whoopsee, had a little accident, fuddy duddy?" Beetlejuice roared with laughter at his condescending comment.
The manager grabbed Beetlejuice by the leg and threw him onto the floor, backing him into a corner and grabbing him by the collar. "Look, you disgusting beetle, I don't want to make a scene in my own diner, so I suggest you move the heck out of here and never come back. That's the fifth window you've broken in the past month, you STILL haven't paid me for the previous incidents! Now GET OUT!"
Beetlejuice smiled again. From a few yards away, the Mummy could easily tell that this was a "bad" smile.
The mentally insane ghost scream-laughed as he suddenly forced his head to spin around and around and around. The manager was terrified and backed away. Even for Halloween Town, this was disturbing.
Around and around and around Beetlejuice's head went until it popped off. The manager backed away so quickly that he tripped and fell onto the floor. Like a train wreck, although he desperately wanted to look in a different direction than Beetlejuice and his now unattached head, he simply couldn't. The features were still moving normally on Beetlejuice's head. As the pencil-wrestler looked on in shock, the ghost's body threw his head at the manager, which knocked him out. Beetlejuice reattached his head onto the rest of his body and approached the unconscious manager, who he dragged to a couple's table and planted the manager's face into the wife's plate, which included octopus tentacles with messy red antler sauce and pig tail. Beetlejuice rubbed the manager's face all over the plate. Once done, the manager's face looked incredibly filthy.
Five minutes later, the manager was duct-taped to the central wall in nothing but a tie and underwear with food all over his face, random drawings on his torso, both arms shoved into two rows of pumpkins, and his feet covered in green slime. Finally, next to him was spray painted, "Happy Halloween, bozos!"
This was the work of a maniac. And that maniac was Beetlejuice, who had just been escorted out of the café with Matthew the Mummy.
Three minutes passed with no conversation as the two monsters walked along the streets. And then . . .
"What am I doing here, Matt? Two years have passed and I've been in hiding the whole time. Is there any point of my being here? Was I meant to die in Eerie Estate in 2019? That should have been my destiny and yet . . . it wasn't. I know that I play a lot of roles, but inside, I really do wonder sometimes . . . 'Why?'"
Matt sighed. "Well, it could be that – "
Beetlejuice angrily interrupted, "HEY, I'M NOT . . ." He took a deep breath and calmed down. "I'm not finished yet. What I was going to say was: how have I survived? Not only have I been practically broken in two, but the darn KGB almost killed me! When I was hiding out in Siberia until June of 2020, those goshdang KGB agents beat me up pretty darn well! I mean, couldn't they BE A LITTLE NICER?! They even tried the chair on me, and I survived. Anyway, I . . . I've just been running these past two years. After I broke out of the Russian prison in August 2020, I fled to New Zealand. Poof! Caught again! Same thing with Switzerland, Norway, Canada, Algeria, your home country Egypt, and even stupid Antarctica! That's why I came here. I manipulated that Sally girl, you know, Jack Skellington's little friend before he died, into showing me a way here. I've lived in peace for a while, but I have a bad feeling that I'll be wanted here again soon."
There was a brief pause. "Are you done?" asked Matthew.
"Of course I am, you moron!"
"You're so kind. Let me just say this, Beetlejuice: you and I have been friends for a while, and based on my observations, I truly believe – "
Beetlejuice interrupted again, "Hold that thought." He stopped walking, then turned and looked into a forest, near where he had stopped. Suddenly, he started off running towards the deep, dark, spooky woods. Matthew sighed out of exasperation. "Do I care?" he asked himself. Deciding that he didn't, he turned the other way and started walking towards his home.
Horrifying Hall, October 30, 2021 (1.5 Months Later)
The Invisible Man walked along the long corridors in Horrifying Hall. Wrapped in toilet paper (which he had hoarded during the early stages of COVID-19), the Invisible Man had been anxious for some time now. Running a group of monsters wasn't easy.
Lots had happened between Halloween 2019 and Halloween 2021. After the massive battle between the heroes, monsters, and villains at Eerie Estate in 2019, New York City citizens had become angry. They demanded to know the truth, but truly nobody had known what happened . . . except the people present, who refused to talk. The public media as well as Americans in general ambushed Count Dracula, the leader of the monsters at the time. They commanded that he answer their questions. It was all too overwhelming for him – especially when he was simply trying to get to Hotel Transylvania, which the Invisible Man had gifted him a ticket to . . . but he couldn't escape the country without being surrounded. Finally, the count had a mental break.
When an angry press corp showed up at Eerie Estate on Thanksgiving, the vampire became so angry that he sucked the blood of one of them. Despite all the years that Dracula had spent attempting to subdue with monster stereotypes, he couldn't resist. The press was terrified. He hypnotized all of them, forcing them to comply with his cruel commands. By the end of the evening, all of them had disappeared.
CNN, MSNBC, FOX News, FOX Business, ABC News, CBS News, NBC News, CNBC, and all of the news covered the story practically 24/7 until Christmas. Everyone was extremely concerned and frightened about what had happened. So much was unknown.
That's when the FBI got involved.
The director of the Federal Bureau of Investigation sent in one of his best agents, Agent Herbert M. "Rusty" Rovenfeld, who investigated the crime scene and tried to interrogate all of the monsters, but they had already relocated, fearing that they would be imprisoned (or worse) for life.
Dracula, however, had not yet left Eerie Estate. He was quickly packing for his trip to Transylvania, planning to fly there by himself in the night . . . as sunlight can be very dangerous for vampires. Unaware that Rovenfeld had arrived at the mansion, this gave the FBI agent a chance to confront him. Dracula quickly turned defensive, prematurely casting a spell on the government official that threw him back and temporarily impaired his senses. Since the FBI was monitoring Rovenfeld, they quickly became aware of the attack and sent more forces in. Due to the assault, Dracula was forced to fly the coop. He fled from Eerie Estate and flew off in broad daylight in bat form . . . never to be seen again.
After this incident, an angry mob of New Yorkers formed together, wanting answers immediately. They turned violent, destroying most of Eerie Estate and even injuring a few law enforcers.
All of this had happened in one month's time. And it was wearing on the Invisible Man.
Ever since the FBI had been trying to locate the remaining monsters (Invisible, Frankenstein, Jack O'Lantern, Skeleton, Witch Miriam, Wizard Marius, and the Werewolf Man) and Dracula had disappeared, the Invisible Man took over as Interim King of the Monsters. He made a lot of sacrifices to keep the monsters together from posing as a normal human in order to purchase a temporary new headquartered base (Horrifying Hall) to consulting a doctor for the Werewolf Man so that he was to have a prescription drug that turned him back into a human, something he was not allowed to do under the last two Kings of the Monsters (Lord Dreadful and Count Dracula).
In other words, a lot had happened in two years.
The Invisible Man had wanted to devise a frightening new plan to take over the Halloween holiday, but he didn't dare because of . . . well, what you've just been told. He was thinking about this when he heard the doorbell ring.
"I'll get it!" Witch Miriam yelled from the other room.
She looked out the window to see who it was. Recognizing that the guest wasn't a threat, indeed was a good friend, she opened the door.
"Oh, hello, Miriam!" It was Sally, the humanoid ragdoll created by Dr. Finklestein in Halloween Town in 1994. Ever since her best friend Jack Skellington was destroyed by the Sanderson sisters in 2019, she had become good acquaintances with the monsters and dropped in every now and then to check on them.
The Invisible Man walked into the entryway. "Sally! Good to see you, darling."
Sally was extra cheerful today. "Oh, hi, Invisible! I won't be here for long, but I have an idea for you fellas . . . would you mind fetching the other monsters? We can just meet here."
The Invisible Man was curious about what Sally had to say. "Oh, um . . . sure. Everyone's here except Willy. I'll buzz them."
"Willy?" questioned Sally.
"Yes, Willy," returned the Invisible Man. "You know Willy!"
"Willy, Willy. . . . OH! You mean Wilfred?"
"He prefers Dr. Glendon," commented Jack O'Lantern as he entered the room. "Boy, am I glad that narcissistic little dog has gone on vacation."
"He did?" asked Sally. "I didn't realize that. Hmm . . . I guess I haven't seen him in a while."
"Two glorious weeks to be exact!" said Skeleton, who arrived in the hallway behind Jack O'Lantern.
The man who the monsters were speaking of was none other than Dr. Wilfred Glendon, more commonly known as "The Werewolf Man". On October 15, he decided to return to human form for a while and take a break from the monster madness that was present all day, all night every day, every night at Horrifying Hall. Since he was not recognized by the public in human form, he could live a normal life unlike the rest of the monsters . . . with the occasional exception of the Invisible Man, who would sometimes, though rarely, wrap himself in casts to imitate a severely injured man, but he often avoided doing so as it raised his anxiety to dangerous levels.
It was unknown where Dr. Wilfred Glendon was vacating, because the brilliant scientist refused to tell the monsters before he left. This would normally irritate them, but they were so desperate to be rid of him that they went along with it. It turned out, the human form of the Werewolf Man really enjoyed talking about the complexity of the atomic bomb . . . every moment of the day.
All of the monsters except the Werewolf Man were present in the entryway in a matter of moments: The Invisible Man, Witch Miriam, Sally, Jack O'Lantern, Skeleton, Wizard Marius, and Frankenstein. Sally's visit didn't last long – she basically told them an idea she had for the monsters to put on an "All Hallow's Eve Eve" party the next night on October 30. The monsters enjoyed this plan, and Sally was about the leave when . . . the doorbell rang.
All of the monsters stood there, silent, for twenty long seconds. When the doorbell didn't ring again, they thought they were safe.
"Oh, thank goodness! That practically gave me a heart attack!" Wizard Marius loudly commented.
Witch Miriam quickly shushed him. Suddenly, the door broke down, prompting all of the monsters to swiftly run towards a safe zone . . . but they were quickly stopped. Tased, more specifically, all at the same time. They all screamed as a figure in a suit stepped forward.
They looked to see who it was.
"Hello there, monsters. Very nice to finally meet you."
It was Agent Herbert M. "Rusty" Rovenfeld, fully recovered from Dracula's spell. He stepped forward and drew two guns, pointing one revolver at the left side of the room, and the other at the right side.
"Listen up, this'll only take a second!"
"Isn't that what bank robbers say?" quipped Skeleton.
"Shut your jaw before I do it for you," responded Agent Rovenfeld.
This upset Frankenstein. "Frank no like you!"
Sally turned to the Invisible Man, confused. "What's with the green guy? Why's he talking like that?"
The Invisible Man sighed. "It's a long story."
"HEY! Be quiet, you two!" Rovenfeld shouted. "Here's how this is going to work: I'm gonna knock you out before you know what hit you and you're going to go to a maximum-security prison for a LONG, LONG time."
Wizard Marius quickly grilled, "But how did you find us?"
"Oh, yes, I almost forgot!" Rovenfeld gleefully returned. "The FBI received an anonymous tip two hours ago by an unknown person who required that I read this message from him specifically for you. . . ."
Jack O'Lantern was confused. "I wonder who it is," he muttered.
"Frank do, too!" Frankenstein yelled aloud.
"Alright, be quiet!" Rovenfeld cleared his throat. "Here it is: 'The beetle is back, baby!' "
The Invisible Man thought about this for only a split second's time before he realized who this peculiar message was from. "Beetlejuice. BEETLEJUICE, HE'S BA – "
He blacked out. So did all of the other monsters.
Agent Rovenfeld had shot them with instant-neutralizing tranquilizer darts.
Later That Night, Maximum-Security Prison in New York City
The Invisible Man was sitting in a prison cell. He didn't even know where he was. He had just awoken twenty-three minutes and forty-eight seconds prior. He saw nobody else in sight . . . until three minutes later.
A security guard entered with Frankenstein, who was looking confused. He stood seven feet away from the Invisible Man with the guard.
"YOU MAKE CALL YET?" the monster hollered.
"Frankenstein, settle down!"
"WHAT YOU SAY?"
The Invisible Man shrugged it off. "What do you want?"
"YOU MAKE CALL YET?"
"Call? You can call someone here?"
"YOU NO KNOW THAT?"
"Well, I have no idea where I am."
"We'll fill you in on that later," interjected the security guard.
"FRANK ALREADY MAKE CALL! TO FRIEND. ME TRY TO CALL YOU, BUT YOU NO ANSWER!"
"Wow, what a shocker," the Invisible Man sarcastically remarked.
"ME HAVE NUMBER FOR YOU TO CALL! IT OLD FRIEND OF YOURS. ME HAVE IT WHOLE TIME, BUT ME KEEP IT SECRET!"
"Alright, your time is up," said the security guard strictly.
"Already?! That was only about thirty seconds!" complained the Invisible Man.
"Hey, get used to it, Mr. Invisalign!" argued the guard.
The Invisible Man waved it off. "Aw, shut up."
Before Frankenstein and the security guard left, the guard slipped a small piece of paper through to the Invisible Man. On it was a phone number.
Fifteen minutes later, after some coordination, the Invisible Man was making his one phone call, still unaware who was at the other end.
Hotel Transylvania, Romania, The Same Night
At a resort for monsters in Romania, a phone rings in the office of a count, some call him a vampire, extremely well-known in the area.
After five rings, someone picks up the phone. "Vhello?"
On the other line, a familiar voice shockingly says, "Dracula?!"
The minute that the Transylvanian hears this voice, he hangs up.
This voice has evoked memories of great pain, shock, and pity, all colliding at the same time. The very emotions that this Transylvanian had retreated to his great resort to forever forget about.
He walked to his glass door, opened it, and stood out on the balcony. Though his instinct was to throw this phone experience away and move on . . . there was something else fighting him.
It was compassion.
Count Dracula will return.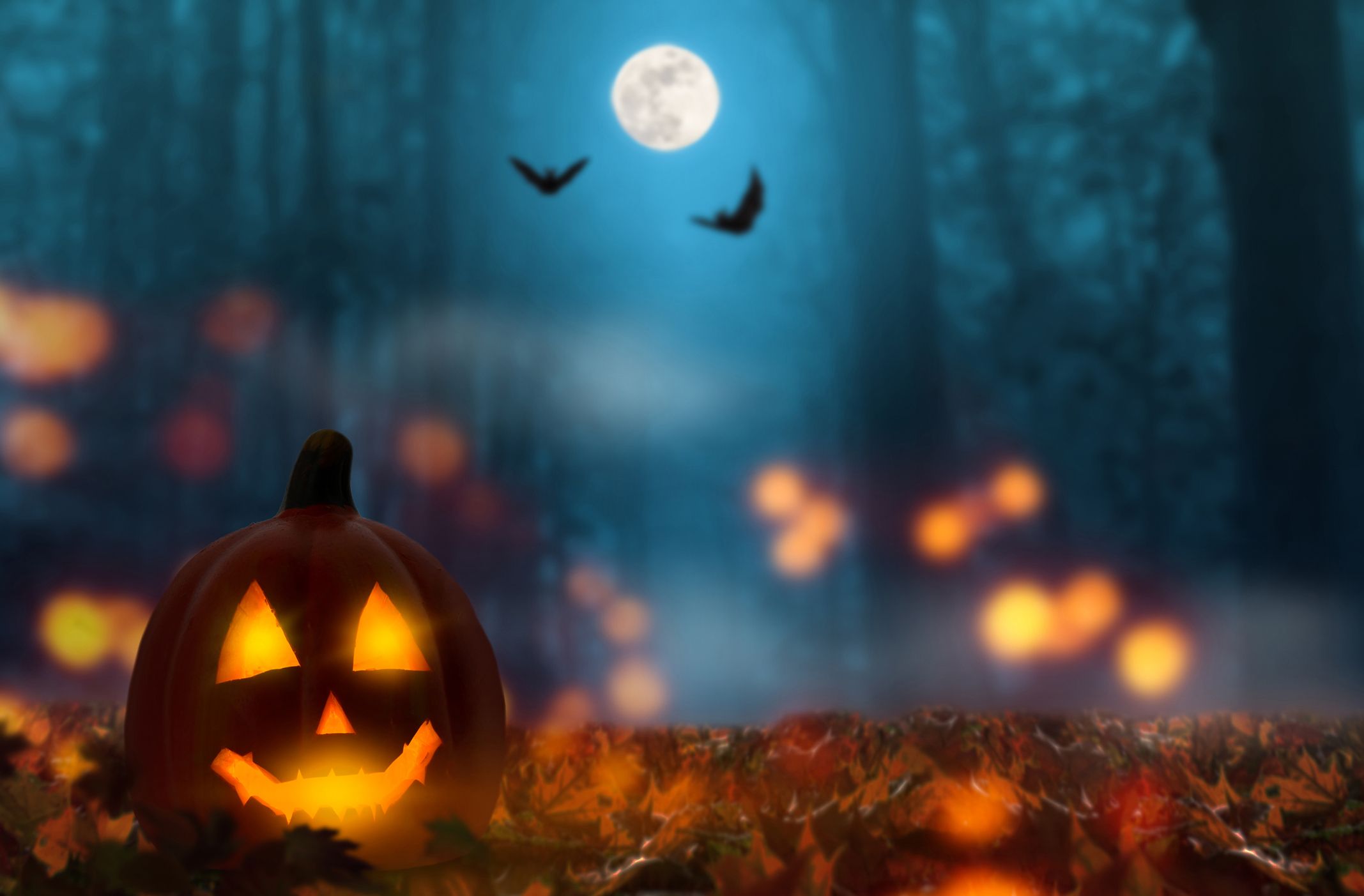 Well, that's the Halloween post for this year! Tell me what you thought and what your theories are down below in the comments. What will you be doing this Halloween? Be sure to let Planet Whiz Kid know!
Until then, Happy Halloween! I'll see you next year with the continuation of the Halloween saga.
Or sooner. 😉
Whiz Kid out
Post-Credits Scene: In downtown Halloween Town, a portal opens. The crazed ghost Beetlejuice, who had been missing for a month and a half, steps out of it, along with a terrifying clown (Pennywise) and a chilling dummy (Slappy).
Beetlejuice projects to the downtown crowd, "I'm looking for a Dr. Finklestein! So . . . . WHERE IS HE?!?!"
The Halloween Townees looked at each other out of fear. However, in the midst of this, a mummy stepped forward.
"Beetlejuice, where have you been?!"
Beetlejuice slowly turned his head to look at his friend-turned-enemy. "Matt, so lovely to see you." And, suddenly, his arms reached out thirty feet, heading straight towards Matthew the Mummy.
"NO!!!!" yelled the mummy.
Beetlejuice was back!